Alleged Baby Mama DROPS Michael Jordan Paternity Case + Bow Wow Ordered To PAY UP $80K To A French Porn Star
Mar 18 | by Natasha
Pamela Smith has now DISMISSED her own paternity case against Michael Jordan. And while Bow Wow was busy celebrating his birthday in Arizona this weekend, he was ordered by a judge to pay a French pornstar what he owes her. Deets inside...
In another crazy turn of events, Michael Jordan seems to have dodged a child-like bullet today. While the drama in this paternity case has been unfolding for several weeks, Pamela Smith, the mother of a 16-year-old boy she claims is the son of the basketball legend, has called it quits! For now at least.
TMZ reports Pamela submitted a request to dismiss her own case today, and the judge granted it without prejudice. So she's free to file again.
We reported last week that MJ's request to dismiss the case was denied by the judge in Fulton County court. And she then demanded a paternity test be done ASAP.
So with Pamela all of a sudden dismissing this case herself, out of the blue, we have to ask. Was she paid off once MJ saw that this legal drama could wreck havoc on his image and upcoming marriage? Or did Pamela just all of a sudden remember who the actual father is? Or does she plan to re-file in a different location?
We have our guess, but oh wells....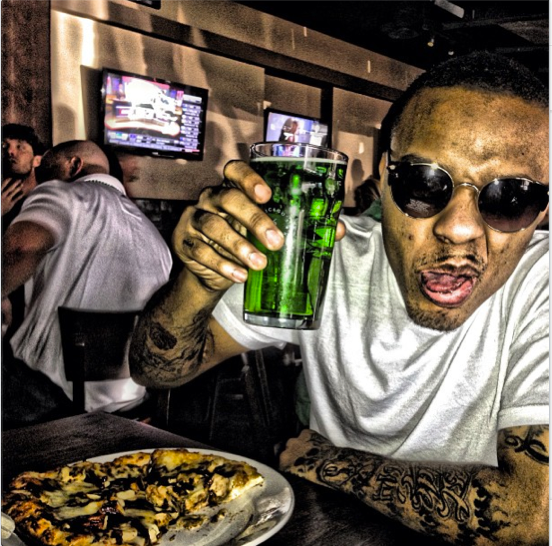 Bow Wow may have spent his weekend celebrating his 26th b-day in Arizona (pictured above with green beer in Phoenix's airport yesterday), but he went back to NYC with some bad news.
That lawsuit filed by French porn star Celine Tran has ended with him having to pay her $80,000, according to TMZ. Back in July 2012, Celine sued Bow for using footage of her dancing in his music video, "Drank In My Cup," without her permission. He apparently took the footage from a video she was dancing in for the french band Electronic Conspiracy.
She sued, and won.
But there's also good news for Mr. Shad Moses. He's starring in the upcoming Scary Movie 5 flick.