Bruno Mars Gets Suited Up In "GQ" + Funny Chicks Torrei Hart & Simone Shepherd SPOOF Beyonce
Mar 19 | by _YBF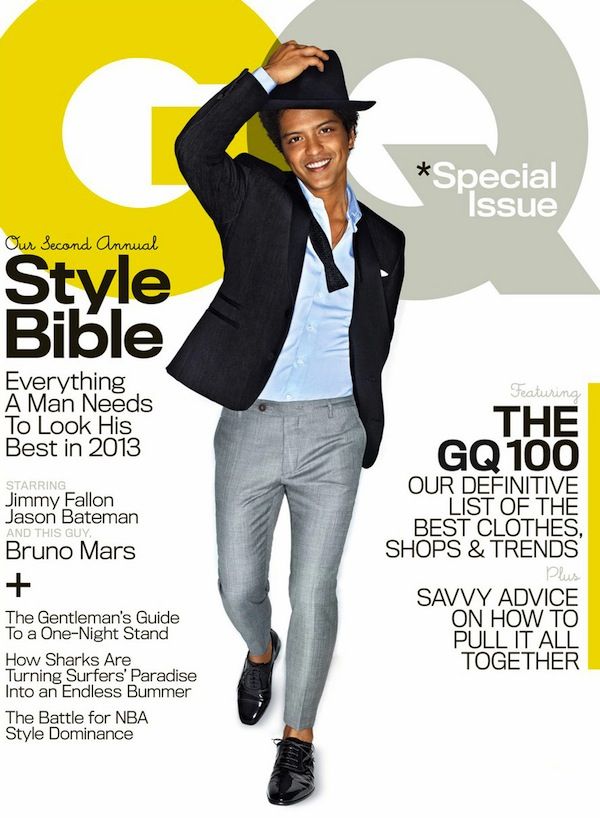 Bruno Mars covers the latest issue of GQ where he talks about writing hit songs and wears this season's latest tuxedo jackets. See the photoshoot inside and watch comediennes Torrei Hart and Simone Shepherd spoof Beyonce and Destiny's Child shutting down the power at Super Bowl 2013.
In the April 2013 issue GQ, "Billionaire" singer Bruno Mars discusses his vintage style and hit writing process for his own hit album, Unorthodox Jukebox. And while modeling how readers can work tuxedo jackets (through photos by Peggy Sirota) into their everyday wardrobe, he talks about his journey as a muscian. And he also shares some of the setbacks that helped teach him some of life's biggest lessons. Get to know Bruno Mars in the new GQ. He's a breath of fresh air to us.
Here's some highlights:
On using metaphors for sex and religion in "Locked Out of Heaven":

"You're not listening to it right if you're picking it apart like that. You know? I can't overthink everything I wrote or worry about that kind of stuff. Hopefully people should know. There's no blasphemy. Or insult to any religion. It's just fucking poetry, whether you believe me or not."


On the difficulty of writing hit songs:

"You know how hard it is to write a big song? That shit is hard, man. It's so hard to do. Might be one of the hardest things to ever do. I don't ever want to come out with something safe and get away with 'It sounds good!' It's got to be more than sounding good. The music I like are events. Fucking 'Bohemian Rhapsody'is my favorite song—that song's an event. And that's what I want to do. I'm sure that shocked the world, that song. 'Billie Jean' shocked the world. 'Smells Like Teen Spirit.' Those songs are events. That guy put everything he got into that, and he meant it."

On what he learned from getting busted for cocaine possession:

"'I can take this shit away from you, young man.' That was the lesson. You've slaved away for years and years and years. You've prepped your whole life. It's all you know how to do. You're a kid experiencing life in fucking Sin City, and that was the lesson: It can all be taken away. Put you in a weird place. Embarrass you."

Check out Bruno's photoshoot here:
Blazer and pocket square by Dior Homme; Tank top by Dolce & Gabbana; Pants by Balmain. Loafers; Sunglasses by ViennaLine. Watch by Rolex.
Blazer and pants by Dsquared2; T-shirt by Burberry Brit; Necklace by Bing Bang; Watch by Rolex.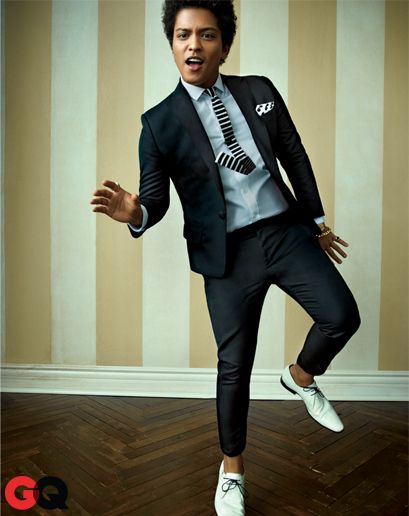 Tuxedo and shirt by Emporio Armani; Tie by Saint Laurent by Hedi Slimane; Shoes by Dior Homme; Pocket square and tie bar by The Tie Bar; Ring by Tiffany & Co.
See the rest of Bruno Mars stylish tuxedo photoshoot over at GQ.
Watch BTS video where Bruno describes getting some fashion sense from like Mr. T:
And the comedic acting duo Torrei Hart and Simone Shepherd (aka Pretty Funny Fish) teamed up with actress Bresha Webb from TV One's "Love That Girl") for their latest sketch comedy "Beyonce Bow Down." The sketch tells America "what really went down" behind the scenes that led to the power outage at the 2013 Super Bowl.