Future Spills His Heart About Ciara -- "I Only Need 1 Woman, She Is So Professional & Intelligent...."
Mar 20 | by Natasha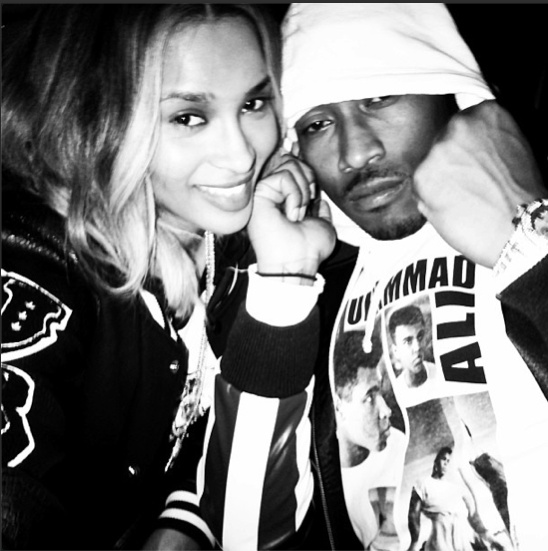 Future isn't afraid to express why Ciara was that "perfect" girl he's been looking for. Check out the "Turn On The Lights" rapper gushing about being loyal to only one woman--Ciara--and why her next album is already classic in his eyes....
EPIC Records labelmates Ciara and Future have been dating a little while now. And their relationship has spread inside the studio too, as Future wrote Ci's most recent single "Body Party."
Ciara posted the above pic yesterday gushing about her boo saying, "Happiness. Love. Caring. Bomb. Inspiring. Everything. He Is...❤"
And it was likely a Thank You for Future's very public display of love during his SXSW interview with Fader. The 27-year-old rapper talked about loyalty to the magazine this past weekend after his show. And he said, "I only need 1 woman."
Maybe he's learned that accumulating several baby mamas is not hot. He also dished on what it was like working with his 27-year-old girlfriend, Ciara, on her new album, One Woman Army:
"It's great. I just play the role of playing beside her and let her run it the way she run it. She knows what she wants. It's easy working with a superstar who's done it over and over several times making hits. So outside our relationship, when we're in the studio, we just go freelancing and just let her do whatever she does as an artist. I'm there to critique what she's got going on."
And he continued dishing on his love for her:
"She's so professional and intelligent you wouldn't believe it. Behind the scenes, her voice is so big and she's so empowering. That's why One Woman Army is going to be one of the greatest albums she releases. Because she took her time with it and overcame a lot."
And like any supportive boyfriend, he's already given her upcoming album the CLASSIC stamp:
"Through time, it's going to be one of those albums you look back on. They're already calling it a classic before it comes out."
How sweet. Check out Future's full interview below. He loves himself some CiCi.