TV FAB: Halle Berry Discusses Her OWN Scary "911" Moment While Promoting "The Call"
Mar 21 | by _YBF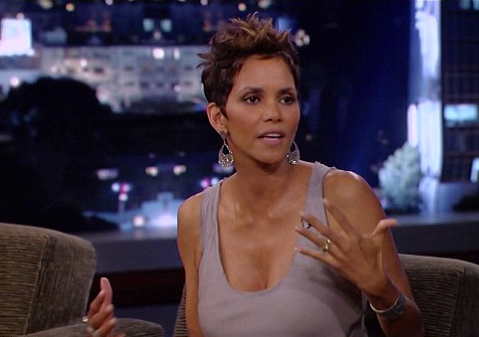 Halle Berry appeared on "Jimmy Kimmel Live!" last night in a sexy dress where she promoted her film The Call and discussed her own scary moments on the otherside of a "911" call. Watch the inteview inside....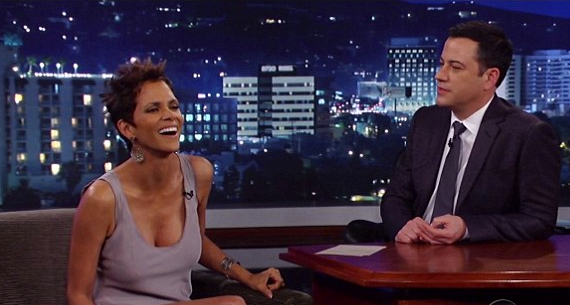 Last night, Halle Berry chatted it up with Jimmy Kimmel where she talked about the upcoming "My Little Pony Bowling Party" she is planning for 5-year-old Nahla. And she revealed that the little one has her own bowling shoes (which she received as a gift). 'At five they don't really know what day is the day, so we're having a little pony bowling party. The ponies will not bowl."
She also said that Nahla doesn't understand that Mommy is a big Hollywood actress, but she was really excited about her appearance in Sesame Street. She told her friends, "My mommy met Elmo."
And while discussing her latest Hollywood flick, The Call, Halle discussed her own scary "911" call where she phoned in to report an intruder who had broken into her property. She described the amount of fear she felt and how the "911" operator had to calm her down and talk her through the home invasion.
"About a year before doing this movie I found myself having to call 911 myself. Somebody was actually trying to break into my property and the scary part for me was I thought he was in my house."

"The operator said, 'Be quiet, you've got to stop talking.' And the last thing I could do was stop talking. And I kept talking, and she said, 'Ma'am stop talking.' My body was on auto nerves pilot."
Watch Halle's interview here....