BRAVO's "Married To Medicine" Premieres To RECORD Ratings, Sparks Online Petition...And Rebuttal From Cast Members
Mar 26 | by _YBF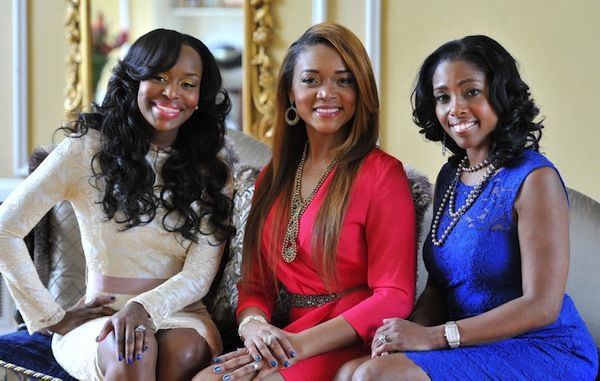 Despite protests from critics, Bravo's latest reality series "Married To Medicine" was a hit straight out the gate. Find out about the series' record ratings inside and read the online petition that outraged the show's stars inside....
Say what you will, but Bravo seems to always grab those ratings when it comes to brown-skinned women and reality shows. It may be at the expense of exposing only certain types of brown-skinned women, but most folks aren't trying to hear that.
While Starter Wives Confidential and The Sisterhood were all shown the door, and season 3 of "Love & Hip Hop" saw dismal ratings, Bravo's latest offering, "Married To Medicine" was a hit with audiences on Sunday evening.
According to The Hollywood Reporter, the series held onto the audience who watched "RHOA" on Sunday and drew 1.9 million viewers. That rating hit all of the key demographics and became the network's most-watched premiere for a non-spinoff and earned the highest number for a Bravo series launch since "Bethenny Getting Married" in 2010.
But the series' record ratings WON'T be cheerful news to a group of medical students at Howard University who started an online petition hoping to discredit the show. And online petitions are nothing to be taken lightly since we saw "the little petition that could" destroy "All My Babies' Mamas" before it even aired.
The posting from the outraged students said,
Black female physicians only compose 1% of the American workforce of physicians. Due to our small numbers, the depiction of Black female doctors in media, on any scale, highly affects the public's view on the character of all future and current African American female doctors. Bravo's "Married to Medicine" not only exploits the 6 lives of its Black female cast members, but, through its advertisements and commercials, heavily associates Black females in medicine with materialism, "cat fights", and unprofessionalism.

In a time when doctors are being held to very high standards by the public and each other, it is unfathomable for such a depiction of medicine and black women to be broadcast on tv where it will be inevitably available for years to come, on the internet and through other media outlets.

Additionally, as residency positions are becoming increasingly more competitive (particularly for Black women) and contingent upon social behavior of graduating medical students, this depiction will only hinder black female physicians from attaining competitive residencies. Hence, for the sake of integrity and character of black female physicians, we must ask that Bravo immediately remove and cancel "Married to Medicine" from its channel, website, and any other media.
Hmmm.....now that "Married To Mediciine" had proven to be a moneymaker for Bravo (at least THIS week), we don't see Andy Cohen and his counterparts cancelling that mug. Apparently, America wants to see the "Diva Doctor" and the superficial doctors' wives.
The students' efforts did spark a response from a few of the show's castmembers who have been doing their promo rounds. During another recent interview, several ladies of the cast took issue with the students starting a petition for a show they'd never seen and cautioned that their focus should be on books....not reality tv.
It will be interesting to watch this play out.
Photos via Hyosub Shin/ajc.com