Wendy Raquel Robinson REACTS To Pooch Hall's Criticism & Tia Mowry's DEPARTURE From "The Game" -- SAYS "It Was Devastating"
Mar 26 | by _YBF
"The Game" star Wendy Raquel Robinson has opened up about her former co-stars Tia Mowry and Pooch Hall and how she felt when she learned they wouldn't return for another season. Find out what she said inside....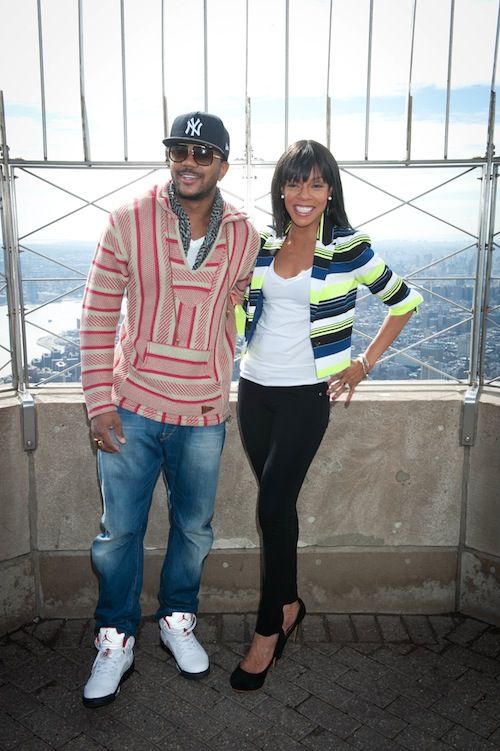 Earlier today, actress Wendy Raquel Robinson, along with castmate Hosea Chanchez, headed to the top of the Empire State Building where they celebrated the 100th episode of "The Game" (airing tonight). And now, as BET gears up for its sixth season opener, Wendy talked to ABC News about the show's shift. Since the departure of former lead actors Tia Mowry and Pooch Hall, there's been plenty of criticism from fans and actors themselves. So "Tasha Mack" dished on how she felt about the new lineup. Here are the highlights:
If Game Producers Told Cast About Tia Mowry-Hardrict/Pooch Hall's Departures:
Really they didn't tell us anything because at the end of the day it's not our business. ...[They did share] it was going to be hard to continue on with the storyline, which does make a lot of sense. If [Derwin Davis] gets traded and [Melanie Davis is] off at Johns Hopkins in Baltimore -- we're set in San Diego -- so it would've been a little convoluted.

Her Reaction to Pooch Hall's Negative Tweets About The Game:
It's kind of like going through a bad divorce and there's the love of your life getting married again. How do you act? I can't say what Pooch said on Twitter, or re-tweeted is appropriate, but it's...an emotional reaction. It's a knee jerk reaction. He'll get over it and that wound will heal.

Her Reaction to Tia Mowry-Hardrict Leaving The Show:
Personally that's my little sister so it was devastating. But now in retrospect so many other opportunities have come to her: movies, her own show and then she got a reality show. So...it's still hard, but it's a blessing in a disguise for her as well.

On New Season of The Game:
"It's fresh. It's new. It's still the same drama/comedy...but I do like the addition," Robinson said referring to new cast members: Lauren London and Jay Ellis. "I think it's going to help. You know every now and then we need to get re-energized and resuscitated."
The Game's sixth season premieres on BET tonight at 10 p.m. ET.
Photo: BET/Empire State Building