MAGAZINE FAB: NY Knicks BALLER Tyson Chandler's "GQ" Shoot With Son Tyson II + Rita Ora, Iggy Azalea And A*M*E COVER "HUNGER" Magazine
Mar 28 | by _YBF
NY Knicks baller Tyson Chandler dished on his fashion aesthetic with lifestyle bible GQ in their April 2013 issue. See Tyson posing with his son Tyson II inside and music fashionistas A*M*E, Rita Ora and Iggy Azalea on the cover of HUNGER Magazine.
From Amar'e Stoudemire to Carmelo Anthony, the NY Knicks boasts some of the most fashionable men in the NBA. In the April 2013 issue of "GQ" Tyson Chandler joins the ranks of his teamates in a new photoshoot which puts his off-court fashion sense on display.
Inside the mag and photoshoot, the former Chicago Bulls player models different ways to sport shades of Black and dishes on where he gets his fashion sense, his home life (where he paints wth his son Tyson II) and how important textures and fabrics are to him. Here are the highlights:
On why he focuses on the details of his look:

"Even before I moved to N.Y.C., I realized that there are no off days. Especially in the camera-phone era. I started to look at fashion the same way I look at my games—there's always going to be someone watching you for the first time."


On pairing sweatpants with blazers:

"When I say sweatpants, I'm not talking about your typical lie-around-the-house sweatpants. I'm talking about that same soft fabric but in a structured, tailored cut. It sounds crazy, but trust me."

On farm-life and the importance of boots:

"A lot of people don't know, but I grew up on a farm. When I'm in a pair of boots, it reminds me of where I come from. I wore cowboy boots my first ten years of existence. I played soccer in them, cleaned the house in them, of course played basketball in them—always in the dirt. They were my go-to's. Chelsea boots are like my worlds then and now coming together."


On how to wear "black":

"To me, if you're going all black, the cut is everything. That's what makes it sophisticated."

On proportions:

"A lot of times, taller guys think their lapels need to be wide. Whether you're seven foot or not, a slim lapel drives a suit."
In the photo above, Tyson rocked a Tank top and pants by Rick Owens, Boots by Esquivel, Necklace by Alice Waese, Bracelet by Goti & a Watch by Tiffany & Co.
Tuxedo by Ozwald Boateng. T-shirt by Rick Owens. Boots by Bally. Pocket square by Dries Van Noten. Necklace by Werkstatt München.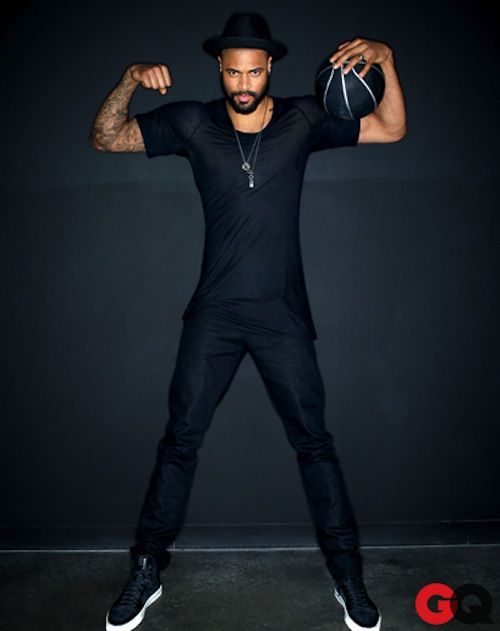 T-shirt by Rick Owens. Pants by 3x1. Sneakers by Saint Laurent. Fedora by CA4LA. Necklaces by Werkstatt München.

Tyson said about his fashion choices:
"It's funny, this T-shirt and pants are just what I wore to the shoot—not for the shoot. If I was going to the grocery store, I would have worn the same clothes."
Also on magazine racks.....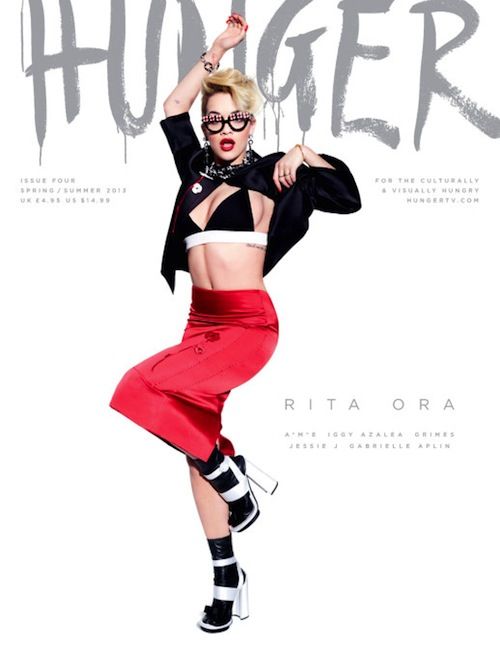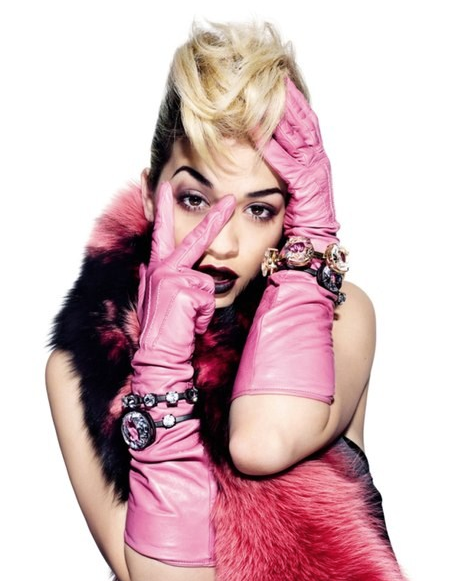 Hunger, a bi-annual magazine from photographer and publisher, Rankin, has just published issue number 4 which features 6 different covers. Rita Ora is among the talented women tapped to add a little sizzle on the magazine racks.
Wilhelmina model and "Work" rapper Iggy Azalea also landed a cover.
And newbie British singer/songwriter A*M*E (who hasn't crossed-over the pond yet), also landed a spot. The mag launched in November 2011 with Kelis and Kelly Rowland on the cover,
The issue hits magazine racks on April 4th. Watch the promo here:
Photos via GQ/Hunger TV