Chanel Iman COVERS "GALORE" Magazine's "Women's Who Rock" Issue + Jourdan Dunn REVEALS She FLASHED Justin Bieber Her Ta-Tas!
Mar 30 | by _YBF
Model Chanel Iman covers GALORE Magazine's "Women Who Rock" issue where she dished on what it feels like to be a top model and her alter ego. See her photoshoot inside and get the deets on Jourdan Dunn flashing her ta-tas at Justin Bieber.
Model Chanel Iman covers the "Women Who Rock" issue of GALORE Magazine with a 70s glam-inspired photoshoot done by photographer Ellen Von Unwerth. Inside the mag, the world famous model dished on her female influences, her alter ego, what it's like to be loved by fans and her favorite designers. Here are the highlights:

Alex Catarinella: Chanel Iman! How's it going being one of the biggest supermodels on the planet?

Chanel Iman: I've been working my ass off! I just got back from Mexico shooting for H&M and I just walked in the Jason Wu show at New York Fashion Week. There's a lot going on and I'm just glad to be working. I'm happy this year. I know what I'm doing and what my goals are. You'll see a lot coming my way.

AC: That makes me overly excited. Can you remember your first "OMFG! I am a supermodel!" moment?

CI: My fans make me feel that way. I'm so grateful for my fans because they inspire me everyday to keep going. The sweet messages I receive always just make me feel so loved and appreciated. It makes me want to work harder. I would love to be a leader for our generation in a positive, uplifting way. And my fans give me the inspiration to be that.

AC: FYI, it's the Women Who Rock issue. What ladies rock Chanel Iman's wonderful world?

CI: Let me see… Beyoncé, Oprah, Michelle Obama, Alicia Keys, Halle Berry. There's a lot of women out there who rock who I look up to. I think Ellen [von Unwerth] rocks. It's my first time working with her but it's definitely not my last. She's awesome.

AC: I've gotta say, it did seem like Ellen brought out your Sasha Fierce on set. Which brings me to ask: do you have an alter ego?

CI: Of course. Everybody should have an alter ego.

AC: Does she have a name?

CI: I don't think I would name my alter ego. That's corny. It just comes out. I let it speak for itself.
Read more of the interview here
See her photo spread here: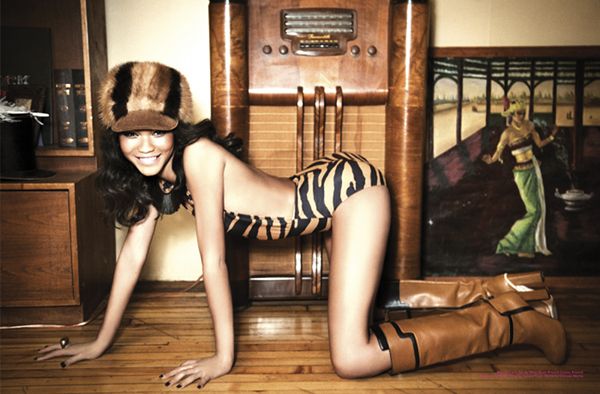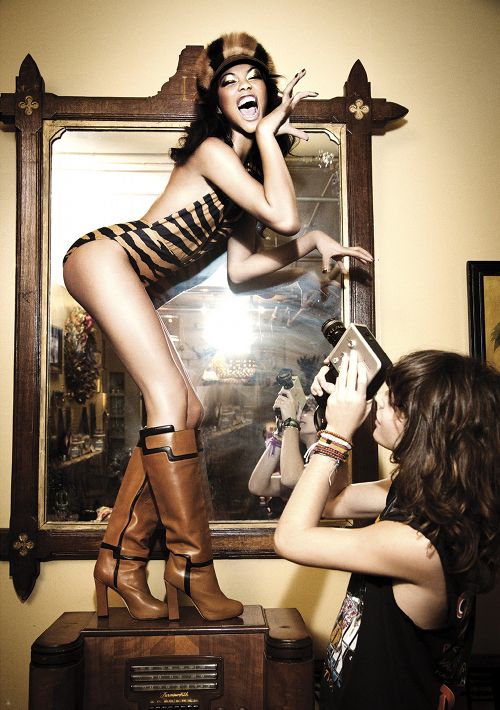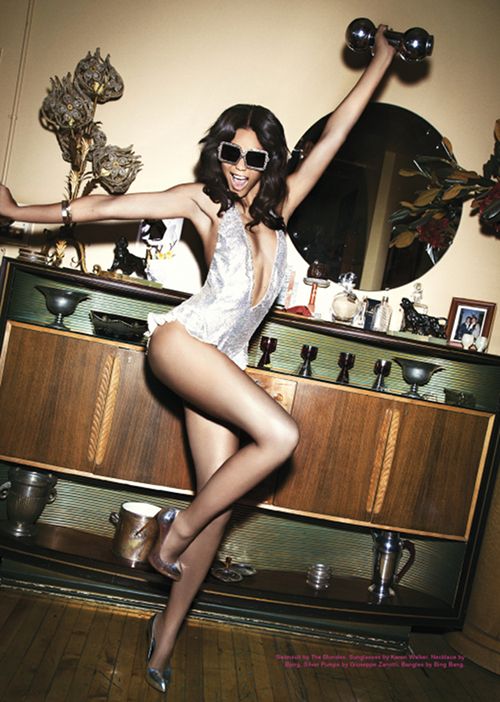 And in other "model" revelations......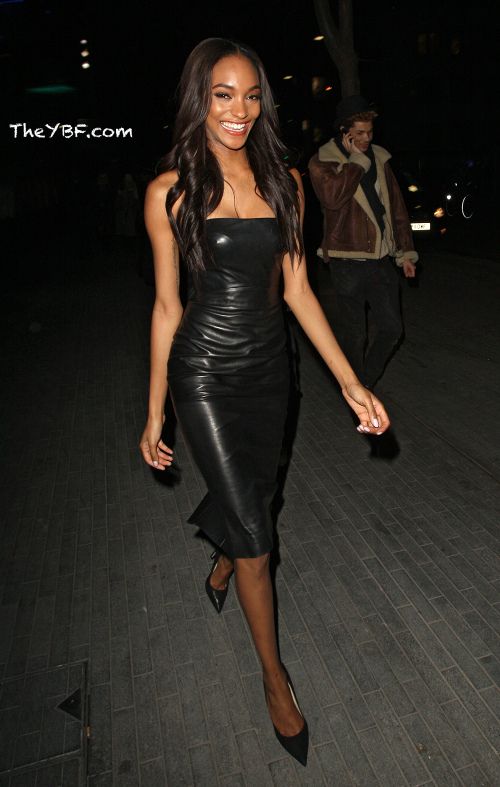 British supermodel Jourdan Dunn recently appeared on Jonathan Ross' UK talk show where the Victoria's Secret model talked about the time she flashed Justin Bieber. She said,
'During rehearsals my segment was the VS Pink with Justin Bieber. During rehearsals him and his dancers were actually there and for some reason, I don't know why, I decided to wear a top that was low cut and no bra.

'So I go down, do my thing, do my pose and then I come off and then everyone was like 'oh my god Jourdan everyone saw your boob.'

So what did Justin think about the model "revelation"? He told her, 'You've got nice t*ts because you flashed to me and my dancers, made our day.'
That exchange led to a little awkward flirting. 'So then after the show we was chilling with Justin and he was kind of flirting with me and I kind of felt a bit awkward because he's this little boy. He was 18 but I'm old enough to be his older sister, it's kind of a bit weird. I laughed after it because he was 18 at the time and I was like 'why not, flirt with the models, do your thing.'
And we all know from the amount of trouble he continuously gets into....Justin Bieber is indeed doing his thing.
Photos via Galore/Spiller/WENN.com