VIDEO FAB: Cassie's "Numb" Featuring Rick Ross, REVEALS "RockAByeBaby" TRACKLISTING
Apr 02 | by _YBF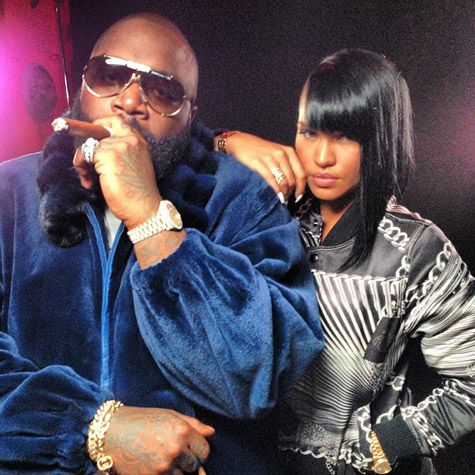 Cassie called on Rick Ross to bless the "Numb" video off her upcoming mixtape RockAByeBaby. Watch the clip inside and see who'll appear on the album.....
Since Faith Evans made her exit a few years ago, Cassie's first in line to claim the title of Bad Boy's First Lady (if you exclude Janelle Monae). And as fans wait to grab a copy of her RockAByeBaby mixtape (April 11), which features Meek Mill, Wiz Khalifa, Pusha T, French Montana, Too $hort, and Fabolous, she's unleased a video for "Numb."
The trip-hop flavored Alex Nazari-directed clip, shows the side-shaven beauty strolling through LA and smoking with Rick while singing "I make music to numb your brain." She spoke about the upcoming project saying,
"This mixtape is about more than just music, it's about the art, the visuals and the people. I wanted to release RockaByeBaby to show my appreciation to the supporters that have been there from day one and always believed in me and my art. My goal was to make a tape that you could vibe too and that people could enjoy from the beginning until the end. I want this to be what you listen to when you need to escape."
Check out the RockAByeBaby tracklisting here:
1. "Intro"
2. "Paradise" feat. Wiz Khalifa
3. "Take Care of Me Baby" feat. Pusha T
4. "Addiction" feat. French Montana
5. "Numb" feat. Rick Ross
6. "Sound of Love" feat. Jeremih
7. "I Love It" feat. Fabolous
8. "RockaByeBaby"
9. "I Know Whatcha Want"
10. "Turn Up" feat. Meek Mill
11. "Do My Dance" feat. Too $hort
12. "Bad Bitches" feat. Ester Dean
13. "All My Love"
Watch "Numb" here.....