Magic Johnson GOES OFF On Folks BASHING His Son, Says He'll Support Gay Athletes
Apr 04 | by _YBF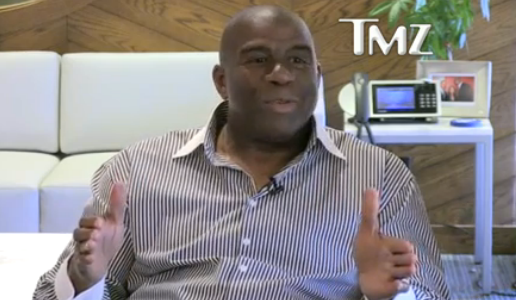 Magic Johnson spoke about the "outing" of his son Earvin Johnson III and how it may impact families struggling with sexuality even encourage some professional athletes to come out of the closet. Watch Magic offer his support and protection inside....
"I'm a protector. I'm going to protect my family." Basketball legend turned mogul Magic Johnson had strong words for folks daring to bash his son EJ, who went public about his sexuality over the weekend in a bold way.
"It bothers me that they're discriminating against anybody who's gay. I've been in the gay movement for a long time because of HIV and AIDS. I see young men who are black who couldn't come out, who couldn't tell their parents, their neighbors. So now, it's my son."
He continued,
"This is the year 2013 --- we should stop discriminating against people. And that's what I'm gonna do with my son. But I'll also support others. This is gonna be good for a lot of black young people."
During a lengthy interview with TMZ, Magic revealed that EJ's public "outing" had been in the works for a while. "I think he really wanted to be out. But he was torn. ... He just didn't know how." Magic says recently EJ made the decision (with the full support of his family) to step out, 'This is my moment. This is my time. I'm happy to share with the world who I am.'
Since it happened, the family has grown stronger and EJ has been a lot happier. "This is a good moment for us as a family, and a greater moment for him. Now he's just the bubbly kid we knew again. ... I'm behind him a million percent. This is really wonderful for him."
Magic also expressed to EJ how his decision might contribute to equality and understanding in a much larger way. He told "This is going to be bigger than you. We're not going to see it now. But you are going to have an impact."
Magic hope other families will follow his lead and talk openly with there children. He revealed they had their first talk when EJ was 12.
"We've known for a long time that my son EJ was gay," We finally had to sit down and talk about it. I told him, 'Look, I'm gonna love you regardless, just let me know. Are you, or aren't you?' And finally he said, 'Yes, I am.'"
Now, Magic hopes that this might create a road for acceptance and understanding in professional sports. As owner of the LA Dodgers, he spoke about the possibility of one of his player being gay saying, "You really have to support that person, and help educate the public. If a play ever wants to talk to me about life or coming out, my doors are open." He added that he'd protect them in any way he could.
"It's unfortunate that we have to go through some of this negative stuff," he continued. "But it's not gonna change me, it's not gonna change my son and the way I love him. If people can't understand it, that's on them."
Towards the end of the interview, Magic revealed that he's had a few conversations with professional athletes about being gay or HIV positive (wonder if he'll ever spill that info), but those individuals don't have the courage to speak openly or publicly for fear of backlash. Do you think EJ coming out in such a bold way will give others the courage to walk in their truth?
Watch Magic discuss talking about sexuality with EJ's at age 12:
And watch Magic offer support to professional athletes who are in the closet: