DRAMA: Injured LA Lakers Baller Jordan Hill SUED AGAIN By Ex-Girlfriend For ASSAULT!
Apr 12 | by _YBF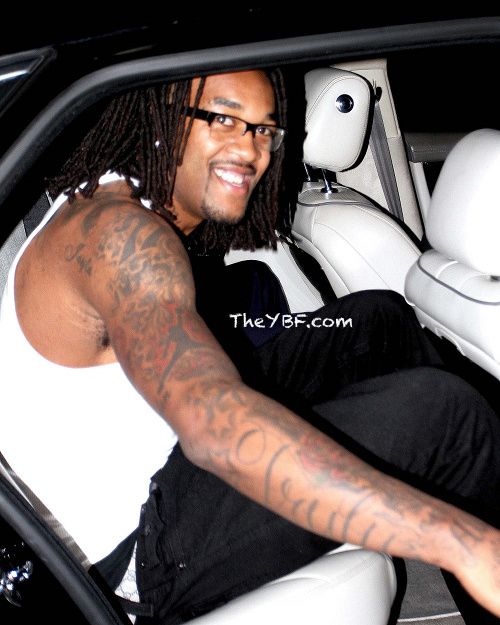 Injured Lakers baller Jordan Hill has been cleared to suit up for the basketball court. And he'll also need to suit up for LA County court thanks to in a new (kinda) domestic abuse case. Get the deets on both "courts" inside....
LA Laker fans...good news for you. Power forward Jordan Hill (pictured above out to dinner in L.A. last week), who was sidelined due to hip surgery three months ago, has been cleared for practice. According to ESPN, Dr. Thomas Byrd in Nashville, Tenn. gave him the clear to being to begin training. A spokeman for the Lakers estimates it would take another 3-4 weeks of on-court basketball drills before Jordan will be back at the Staples Center for good.
But in the meantime....
Jordan may need to put on a nice double-breasted suit when he's called upon to face his ex-girlfriend Darlene Luna.
Earlier today, Darlene, who accused Jordan of felony assault in February 2012, linked up with high-powered attorney Gloria Allred (and we ALL know what that means) to file papers at the LA County Courthouse over their alleged domestic violence incident.
Darlene alleged a year ago that Jordan left bruises on her legs and tried to choke her out.
According to TMZ, Jordan entered a plea of "no contest" in the criminal suit in exchange for a one-year deferred sentence and a $500 fine during the criminal trial a few months ago. But that wasn't good enough for Darlene. So today, she filed a civil suit.
There's no word yet on how much Darlene is seeking, but when folks hire Gloria....they usually ask for tons of zeros on those checks.
We'll keep you posted.....
Photo via Winston Burris/WENN.com