Big Sean Opens Up About Girlfriend Naya Rivera, Explains Why He Broke Up With His High School Sweetheart
Apr 15 | by Natasha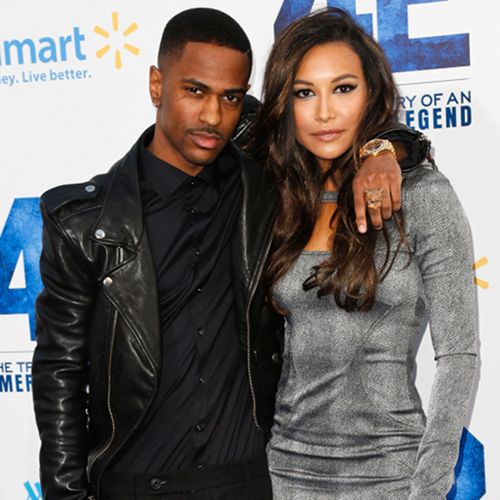 Rapper Big Sean is opening up for the first time about his new girlfriend, "Glee" star Naya Rivera. Find out what he had to say about their "cool" new relationship, and why he broke up with his high school sweetheart...
"A$$" rapper Big Sean chopped it up with WKYS' The Urban Informer about his crazy rise in music and all his career goals. The G.O.O.D. music artist had our ear, though, about why he's suddenly popping up everywhere boo'd up with a TV star. And yes, he confirms he and Naya Rivera have been dating for a while now.
As for the couple's pics together popping up everywhere online, he claimed, "I had no idea it would be like that."
Yeah right, Sean. He said he usually takes his mom to events, so people weren't expecting to see him and Naya together. But we're sure he expected some buzz from their appearances as the two have decided to play the celeb dating game that he knows damn well garners publicity. Let's keep it real.
On new girlfriend Naya:
Naya, I been dating her for a little while, and I guess that event (the 42 premiere) was one of the first big events that came up while I was dating her. We were like, 'Yo let's go to it' because we both wanted to go. I'm kinda a private person and she's a private person.
On breaking up with his high school sweetheart Ashley (pictured above):
I had a girlfriend too before that who I was with since I was like.... I always been in a relationship since I was 18 or 19 when I got with her. Things didn't work out and not because of this music stuff. But sometimes when you're with somebody and you're 18 and you grow up...and it's long distance because she lived in New York and I lived in L.A.....you grow apart as people. It's nothing more and nothing less.

It's not like I've changed. It's not like that at all. We just really had our differences and it just clearly didn't work out. It may work out later, it may come back too. Who knows.

But as far as Naya, it's something new. Naya's really cool. Our relationship is cool. She's tight.
Hit the 6:45 mark to hear him talk about his girlfriend Naya and breaking up with his ex. Plus, Sean talks about his upcoming album Hall of Fame, his new track "Switch It Up" with Common, and collabo'ing with Eminem and more.