SWOOSH!!?? Rick Ross THINKS Reebok OWED Him A SECOND Chance...Now He's Rocking JORDANS!!???
Apr 17 | by _YBF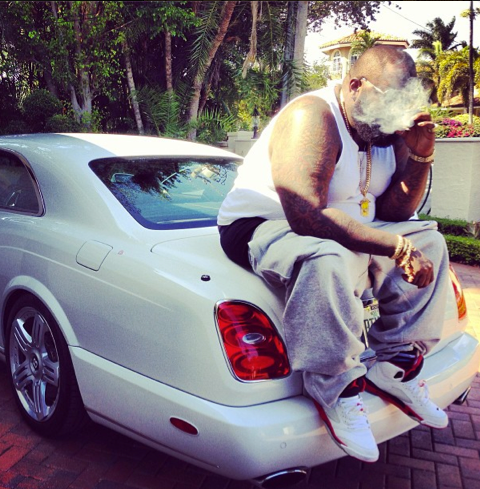 Rick Ross is telling friends that Reebok shouldn't have dropped him as a spokeperson since he's the one who made Reebok Classics "relevant" again. Get a dose of Rick's big ego inside and see him switch to the "swoosh"...
Now that Reebok has dropped him as a spokesman, Rick Ross is feeling some kind of way and posting pics of himself switching it up from Reebok Classics to Air Jordans.
You'll recall that when the "U.O.E.N.O." controversy first jumped off, Rick didn't pay it any mind. In fact, he pretty much ignored it. It wasn't until women's activist groups started putting pressure on Reebok that he even bothered to offer a half-assed apology.
Fast forward to this week, sources close to Rick revealed that he stands to lose between $3 to $5 Million bucks because he was getting a check everytime he wore the shoes....so now he's pissed.
Yesterday, Rick offered his own passive aggressive statement (possibly aimed at Reebok) by posting a new pic of himself rocking Jordans with the tagline "Another day at the office. #DoubleM"
His friends told TMZ that he thinks he should have been offered "corporate forgiveness" since he made the brand relevant in the hip hop game again.
But don't expect a response from Reebok. They've already said, "We are very disappointed he has yet to display an understanding of the seriousness of this issue or an appropriate level of remorse."
We have to agree with Reebok. If Rick and his PR team were truly remorseful, he'd be signing on with a non-profit group that helps rape victims...not posting pics of Air Jordans. #stillthesame