NOT AGAIN! VOGUE Netherlands Uses "Blackface" For CONTROVERSIAL Editorial
Apr 18 | by _YBF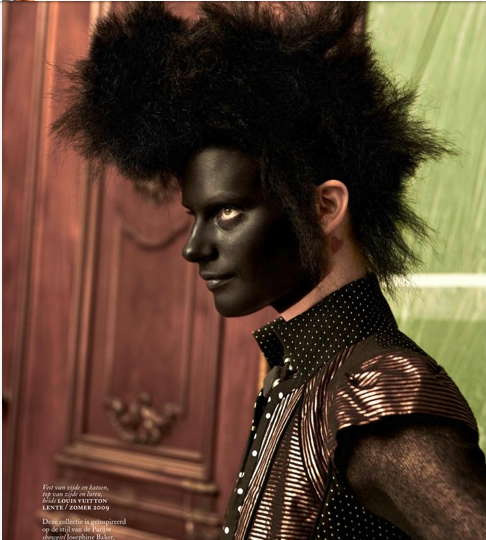 VOGUE Netherlands has joined the growing list of European publications putting non-Black models in blackface. See the controversial pics inside and speak your piece on the "blackface" craze in fashion magazines....
As the "blackface" craze continues, it's beginning to look like European fashion editors and photographers are under the assumption that the world is lacking beautiful BLACK models worthy of their editorials. Or that there's no harm in painting non-black faces black for "creative" purposes.
We told you a while ago about French fashion magazine Numéro using a white model to pay tribute to African Queens and now, Vogue Netherlands has used a white model to pay tribute to Grace Jones and Josephine Baker!
In the editorial, which was intended to honor Marc Jacobs' 2008 and 2009 seasons (which took inspiration from Grace and Josephine), Vogue Netherlands painted model Querelle Jansen's face black and used wigs to mimic the texture of black hair. This follows a long list of other fashion mags (Vogue Paris, L'Officiel Hommes, V) that have all used blackface in recent years. We have to ask....were all the Black chicks booked for other gigs?
It's no wonder the winner of "The Face" , Devyn Abdullah, didn't want to be identified as "Black" since European mags don't seem to hire Black models....even when the editorial is tributing someone of African descent!
Should Black readers (around the world) be outraged at this outright refusal to use Black models? Or do we just say anyone of any color should be able to portray black figures...in black face...
SPEAK ON IT!