Kelly Rowland Set To TOUR With The Dream, Hits The GLAAD Awards + Taraji Henson & June Ambrose Go Fashion Crazy At Tribeca Film Fest
Apr 22 | by Natasha
Kelly Rowland's year just got even busier. She's set to tour with The Dream....and it's starting very soon. Check out the gorgeous chick and other celebs hitting up the GLAAD Awards in L.A. Saturday night, plus Taraji Henson & June Ambrose having some fun with fashion at the Tribeca Film Festival over the weekend....
In a stark white Izmaylova jumpsuit with a sheer paneled halter, our fave fab chick Kelly Rowland made her way to the 24th Annual GLAAD Media Awards presented by Ketel One and Wells Fargo at the JW Marriott Los Angeles at L.A. LIVE this weekend.
Perfection as usual. But the major chatter today about Ms. Kelly is that she's headed out on tour...with her homie the Dream. Dream confirmed that they are wrapping up the details now, but things will kick off at the end of May and will go through the summer. Nice!
He and Kelly duet on his upcoming album IV Play (May 28) on an R&B song called "Where Have You Been", produced by Da Internz. And Dream returned the favor by writing/producing a few tracks on her upcoming album, Talk A Good Game.
The tour should be great promo for their albums.
Kelly Rowland rocked out on stage for the crowd as well.
Actress Sherri Saum, who we don't get to see much, made a girly appearance in a cute citrine dress with a white mesh overlay and grey sandals.
"Glee" star Naya Rivera, rocking Zac Posen, didn't let those stripper pics of her boyfriend Big Sean getting it in one night get her down.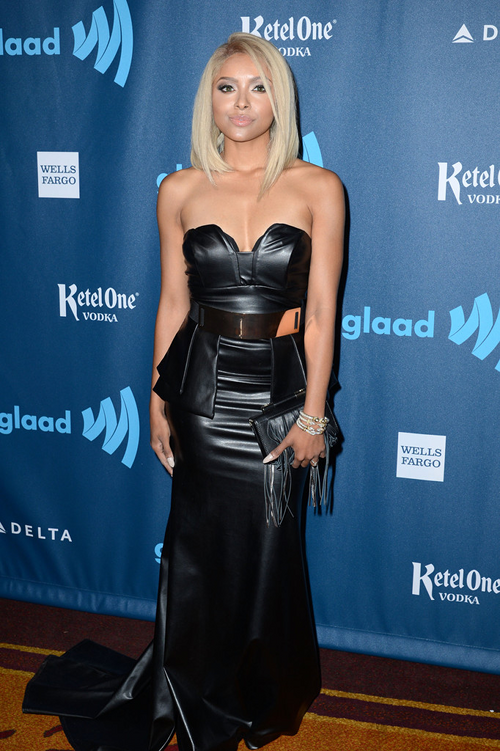 And at Kat Graham looked amazing in this black peplum gold belted gown. The sweetheart strapless neckline and leathery fabric is perfection. Great look for her.
And at in NYC at the Tribeca Film Fest over the weekend, Taraji & June Ambrose attended the after party for The Cinema Society with FIJI Water & Levi's screening of "Mud" at Harlow:
Both ladies kept it busy and colorful. Loves both looks.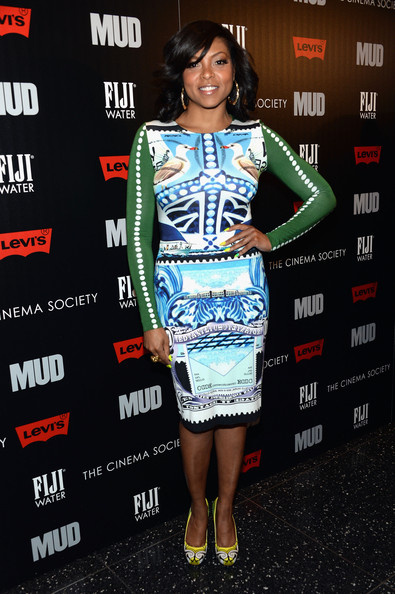 Taraji kept it young and fun with neon yellow nails, a busy print dress with equally busy Nicholas Kirkwood silk-satin pumps.
And June Ambrose kept it colorfully mod in this printed shift dress and pink Giuseppe heels.
Also in attendance, actors Cuba Gooding, Jr. and Michael K.
Fab times.
Pics: INF
The Randomness:
1. Tami Roman and Elise Neal's new show "Belles" on TV One just got the axe. STORY