TV FAB: Bob & Sheree Whitfield FAIL To WORK IT OUT On "Iyanla: Fix My Life"
Apr 22 | by _YBF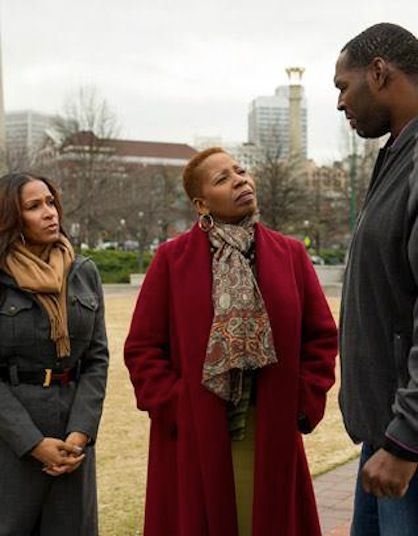 Former "RHOA" star Sheree Whitfield appeared with her ex-husband, retired football player Bob Whitfield on a must-see episode this weekend of "Iyanla: Fix My Life" where they were both forced to look at their ill-fated co-parenting skills and unresolved anger towards one another. See all the footage from the show inside....
Missed the Sheree Whitfield episode of "Fix My Life"? No worries, we got you.
On the latest installment of "Iyanla: Fix My Life", Iyanla Vanzant sat down with former "RHOA" star Sheree Whitfield and her ex-husband Bob Whitfield where the two discussed the obstacles preventing them from co-parenting their two children. Along the way, Iyanla took both down a long and murky road of emotional issues (the same ones previously traveled by DMX and Evelyn Lozada) that allowed them both to see their own flaws and what roles they played in the failure of their marriage and how it affected their children.
And it was obvious to everyone watching, Bob Whitfield was very open to the process. Sheree, on the other hand,remained closed and guarded (much like her stint on "RHOA") .
Fans of "RHOA" will enjoy Iyanla's revealing chat with Sheree about her un-finished McMansion "Chateau Sheree" and how its incompletion is a mirror of her life and her "former" marriage. Of course, Sheree battled Iyanla along the way and didn't seem open to criticism, so she missed most of the "A-Ha" moments. Iyanla also gets to the bottom of the child support issues and why her marriage to Bob was doomed from the start.
For Bob's part, Iyanla called him out for failing to parent his two children and helped him see how he allowed his anger towards Sheree push him out of his children's lives.
Iyanla tweeted her most memorable "take home lessons" from the episode shortly after it aired...

Though Sheree and Bob did not leave the episode on friendly terms, Iyanla's episode might be a useful tool for warring baby mamas and daddies who don't get along . She told the pair, "Whenver the elephants fights...the grass suffers. And the children are the grass." And in another classic moment, she told them both that they did not have the luxury of disliking one another since they decided to have two kids together. Womp. #useprotection
Though Sheree failed to provide Iyanla with an update, she was following Oprah's timeline and retweeted some of Oprah's sentiments.

It's interesting that she didn't retweeted any of Iyanla's tweets that hit close to home. Y'all know I've always thought Sheree to be the most delusional of all the Housewives. So no surprise there.
Meanwhile....Bob didn't watch the episode but he was ALSO following Oprah and retweeted her "quoting" him from the show...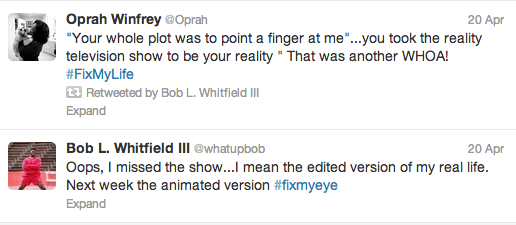 Iyanla confronts Sheree about what "Chateau Sheree"...or as NeNe calls it "Neverland" truly represents:
Bob explains why he's so angry towards Sheree:
Iyanla explains why Bob and Sheree WON'T be able to co-parent:
Iyanla says' "My work here is not done" and creates a co-parenting agreement:
Thoughts?