Lil' Kim STARS In Tiffany Foxx's "Jay-Z" VIDEO, ROCKS THE MIC In NYC + Behind-The-Scenes of Beyonce's H&M Commercial
Apr 29 | by _YBF
Rapper Tiffany Foxx dropped her "Jay-Z" video today starring rapper Lil' Kim. Meanwhile The Queen Bee also rocked the stage in NYC recently. See the videos inside watch BTS footage from Beyonce's H&M campaign.
After dropping a buzz video a few weeks back, Tiffany Foxx released the "official" video for her "Jay-Z" video today. The video pays homage to one of Brooklyn's finest and stars her mentor, Lil' Kim, and features a cameo from Mob Wives' Carla Facciolo.
Watch Tiffany Foxx's "Jay-Z" here:
And Friday, the Queen Bee hit the stage at New York City's Gramercy Theater on Friday. She performed many of her classic hits from Hardcore and a few gems from the Junior Mafia days. And Kim looks like she's in good shape as she paraded around the stage in a lacy-red catsuit. And no, nothing's photoshooped on here.
Watch Lil' Kim perform "Get Money":
And in other music news....
Beyonce wants to keep her name on the tongues of all, so it seems everyday she's releasing something new.
The other Queen Bey and H&M have released behind-the-scenes footage of Beyonce's 2013 swimwear campaign. Shot in Nassau, Bahamas, the video offers commentary from director, Jonas Akerlund, H&M creative director Donald Schneider and choreographer Frank Gatson Jr.
While dancing to her song "Standing on the Sun", it's revealed that Bey didn't have time to rehearse and she learned all of the commercial's choreography while on the set. Like her hubby says, she's the consummate professional.
And if you're tired of her taking over 2013, grab a pillow because chick just nabbed her third VOGUE cover of the year: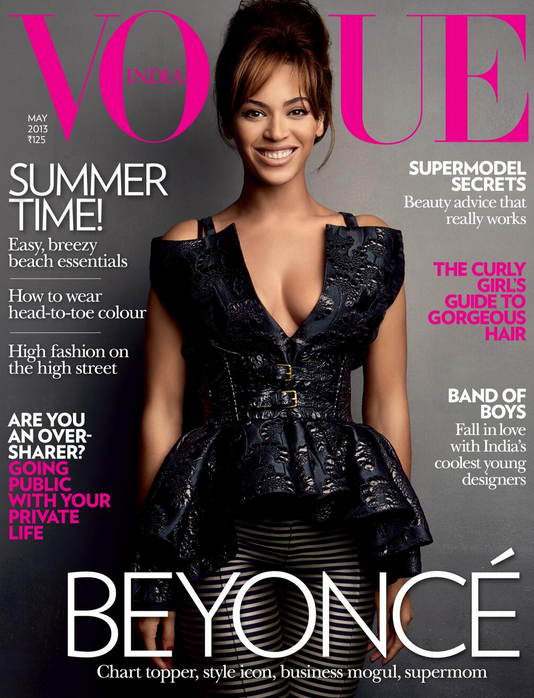 VOGUE India used an outtake (they could have chosen a better one though) from the "Grown Woman" singer's VOGUE US shoot for their new May 2013 issue. You feelin' it?
Photos via Youtube