Beyonce Makes British Fans' DREAM Come True, ATTEMPTS Duet With ROYALTY
May 01 | by _YBF
As she treks across the UK, Beyonce's been "surprising" fans and singing with royalty. Find out about her UK niceties inside...
During her recent jaunt through the UK, Beyonce made the dreams of two very lucky fans come true. Rob McGuire, a 16-year-old fan, just happened to be in the parking lot of Newbury Retail Park when the Queen Bey and her entourage walked by. After making eye contact with Mrs. Carter, he politely asked her to speak via phone to one of her biggest fans. He described the incident to Newbury Today,
She had bodyguards with her. She was wearing dark glasses and a hooded top, but I was fairly positive it was her. I called my friend because she is a huge fan. I didn't want to be rude and just walk up to her. But then she walked right near me. I looked at one of the bodyguards and he looked at me, and then I looked at Beyoncé and just asked 'would you speak to my mate, she's your biggest fan?' and she took the phone."
Moments later, not only had Rob met one of the biggest stars in the world, but he paid it forward and had Mrs. Carter speak to his bestie , 17-year-old Brandy Funderburk, too. And during his brief encounter, Rob asked Bey why she decided to name of daughter Ivy, and she told him that the number 4 is her favorite number and IV is the Roman Numeral for "4."
And if that tidbit wasn't enough to last a life time...Rob and Brandy also received two tickets to Bey's sold out show at the O2 arena. Brandy said,
"I told Beyoncé that I'd been trying to get tickets for ages, and asked her was there any way to get them – and she said we could have two. It was amazing. It was so nice of her. She said she would have someone bring them round within four hours. I don't know if I was really expecting the tickets to turn up."

But two hours later, Rob reported....

"I was at home, there was a knock on the door and Beyoncé's assistant was on the doorstep. I wanted to hug her – but I didn't. I wasn't sure about telling people, I didn't want to seem ungrateful, but I really wanted to tell them thanks. People still don't believe it."
And when she wasn't making dreams come true, Bey was putting royalty on the spot as Princess Eugenie (the youngest daughter of Prince Andrew, Duke of York, and Sarah, Duchess of York) found out. During Monday night's show at the O2, Bey went out to the audience and pointed the mic towards fans and tried to get the princess to sing the lyrics to "Irreplaceable."
The British press said Princess Eugenie was totally embarrassed and missed her cue....but all had fun laughing about it later. And for the record, Beyonce had no idea that she was singing with a princess.
More new pics from the tour: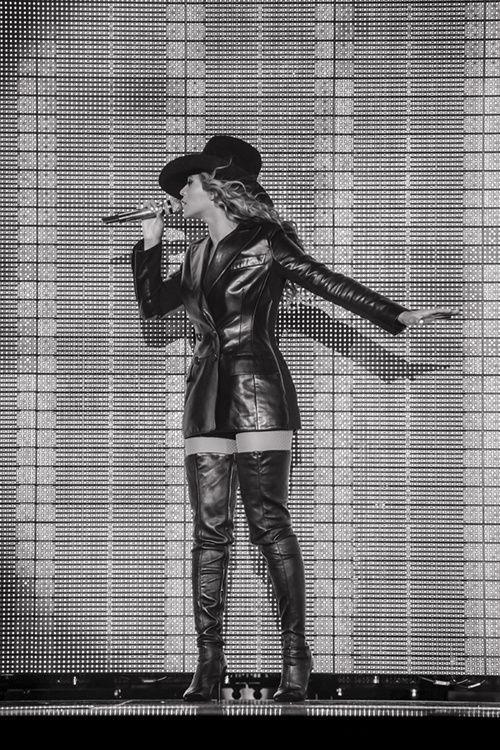 The Mrs. Carter Show world tour continues at The O2 until May 5th before moving to the Manchester Arena until May 9th.
Photos: Beyonce Tumblr