Tamar Braxton SWITCHES OUTFITS While SHOPPING With Vincent Herbert + *UPDATED* Nicki Minaj SPARS With Mariah Carey, SAYS "Clean Your Ears Out"
May 02 | by _YBF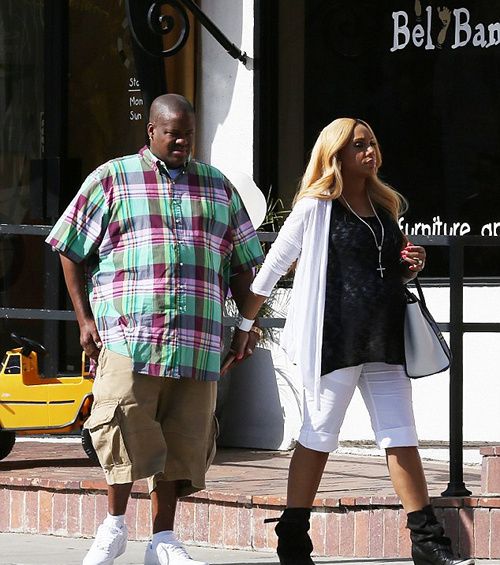 Tamar Braxton and her husband Vincent Herbert were shopping in Bevery Hills yesterday where the mommy-to-be did a mid-trip wardrobe change. See her swap outfits inside and watch Nicki Minaj and Mariah Carey exchange words on "American Idol".
Mommy-to-be Tamar Braxton was spotted out in Beverly Hills yesterday rocking white shorts, black sneakers and a lacy black top. But after being joined by her husband, Vincent Herbert, Tamar ducked into one of the fancy shops and emerged wearing a new outfit.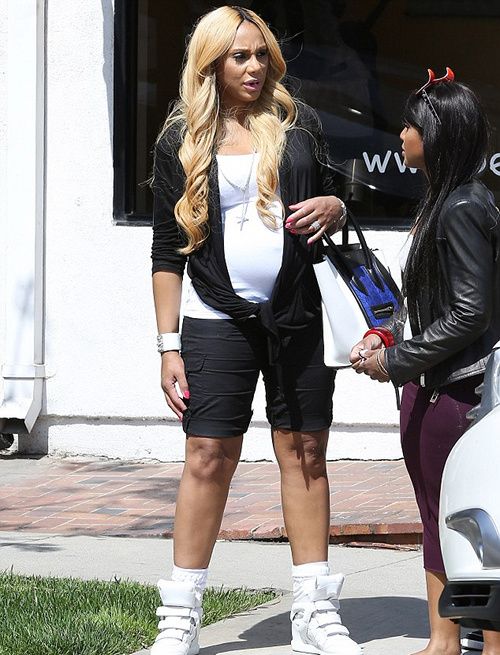 The fierce fashionista, who was joined by her big sis Toni, decided to switch it up midway through her shopping trip and completely swapped out the monochome outfit, walking out of the store wearing black shorts, white Isabel Marant sneakers, a white t-shirt, and a black top. And yes, we thought they were biker shorts too. But they're not and we're all about a fan preggers chick keeping it comfortable. So we're giving this entire look a pass.
Tamar has been making the top of many people's best-dressed list since she announced she was pregnant and we see why. She takes her maternity looks very seriously!
And on television last night...
Warring "American Idol" judges Nicki Minaj and Mariah Carey went through a cringe-worthy argument last night as they bickered about a performance of 'Someone To Watch Over Me' by "AI" finalist Angie Miller.
Shade came from both sides of the table as Mariah stated that she disagreed with 'certain' judges (referring to a comment that Nicki had made earlier) and Nicki responded by waving a cotton swab towards Mariah saying "Clean your ears out." As the audience gasped, Mariah shut Nicki down but looking at Angie and saying,
'Darling, let me express this to her as a singer. Just sing from your heart every time and your notes will continue to shine regardless of the "dirt" that gets splattered around you.'
WOMP.
UPDATE: Nicki Minaj continued the war of words on Twitter today. of course, Mariah has paid her no mind. And for Nicki to think Mariah is so "unworthy"....she sure is giving a whole lot of credence to one sentence of shade MiMi threw.
Nicki said today:
"Why a woman SO successful at her age, is still so INSECURE, and bitter."
"All dem #1s but JLo phone ringin? Lol. I guess having a personality, being a secure woman, and giving genuine critique still trumps that."
Sigh. Just because someone...with proven credibility on the matter...doesn't like you or you "talent", it does not make them insecure and bitter. It's called having an opinion. And we all know a diva with an opinion can piss somebody off easily. Nicki's real mad though...and MiMi twirls on...
Photos via Splash