HOW SWEET! LeBron James Gives His "Wife-To-Be" Major Thanks During MVP Ceremony, Savannah Brinson Gushes Over Her "Mr. MVP"
May 05 | by Natasha
It was a Miami Heat lovefest this afternoon as LeBron "King" James accepted his 4th NBA MVP Award. Check out his official trophy photoshoot, the sweet words he had for his wife and his mom, plus how his fab fiancee' Savannah Brinson gushed about her boo....
Bron Bron joined the company of four legends today as the only NBA players to become 4-time MVPers. And the Heat baller's fiancee, their kids, his teammates and his mom, Gloria James, were all at the American Airlines Arena to watch him accept his Award.
But it was the super sweet words from Savannah and his teammate Dwyane Wade during a mini-tribute video that had everybody in tears.
'Vannah posted a pic of her boo (above) and one of herself before the ceremony (below):
The gorgeous chick, rocking a printed design center panel dress with a green Birkin bag, gushed, "My Mr. MVP! Words cant explain......Getting ready to support the babe for his amazing accomplishments!! #MVP @kingjames"
Awww.
Their boys LeBron, Jr. & Bryce were front and center as well since they're daddy's biggest fans.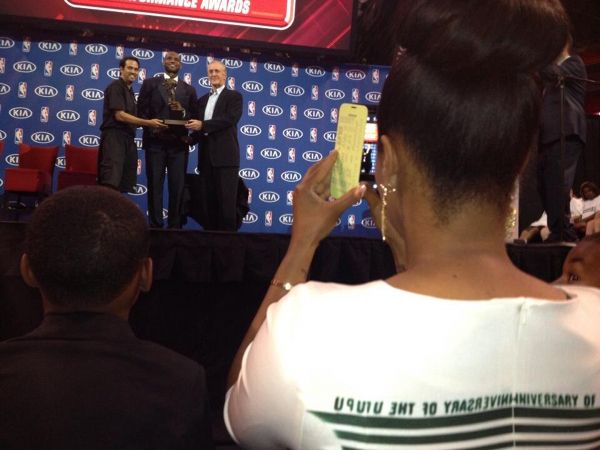 After thanking his mom Gloria for raising him with everything he ever needed, despite not being financially stable, LeBron gave his fiancee a special thank you too:
"To my wife-to-be, I want to thank you for the sacrifices you make every single day. With me being a professional athlete and not being home every day or as much as you would like, I thank you for your support and what you do for our boys."

And he even thanked HER parents for helping their family so much while both Bron & Savannah travel for road games and wedding planning:
"I don't even think they know I'm about to thank them, but this is for my Future mother and father-in-law. I thank them for the sacrifices they make every single day for our two boys. When I'm traveling on the road and playing games and Savannah's all over the world having wedding meetings about a table or a chandelier going up, you guys wake up in the morning and take LeBron, Jr. and Bryce to school every single day, pick them up every single day, pick them up from practice and help them with their homework. You guys are a blessing to me more than you guys know. And I appreciate you so much."
Sweet! Check out Bron's full acceptance speech below:

Congrats! The Heat start Game 1 of Round 2 of the playoffs against the Bulls tomorrow night in Miami.
Photots: Instagram/NBA