MET BALL MESS UP: Kanye & Kim K. Facing Crazy Criticsm Over Kim's Last Minute Givenchy Alterations...And That Dress
May 06 | by Natasha
This may be Kim's first...and last visit to the Met Ball. Anna Wintour shunned her for years, and finally after gaining admission with boyfriend Kanye West who's performing, fashion critics are going in on her Givenchy alterations and the entire look. But is it that much of a disaster?
Check out Kim's floral frock that has everyone praying the fashion gods will come and lay blessings on her inside....
You luck up on an invite to the 2013 Met Ball and you tap Riccardo Tisci of Givenchy to custom design your gown. And this is what you and up with.
The all over floral print floor length gown complete with a train, a turtle neck and long sleeves is enough to make your eyes squint for relief, but it's the fashion critics who are going in extra hard on social media about Kim K.'s look tonight.
While this is officially called the Costume Institute Gala and risque looks are more than welcomed, Kim's look at The Metropolitan Museum of Art tonight may have just set some people off.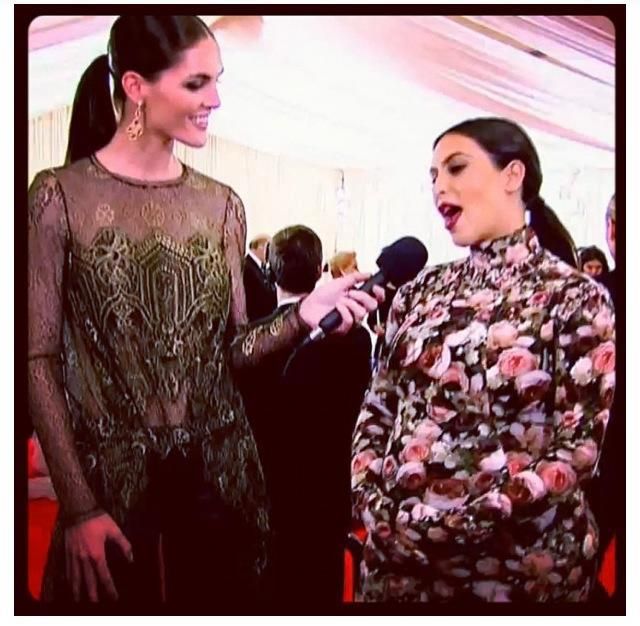 Life & Style reports that the dress has gone through 5 alteration overhauls due to Kim's growing body. And since she's pregnant, this is to be expected. But reportedly, according to the tabloid, Kanye is pissed that Kim's new stylist allegedly demanded...very last minute...to add sleeves to the dress because the stylist didn't want Kim's arms exposed.
"She had the Givenchy severely altered at the last minute on orders of her new stylist," a fashion insider tells Life & Style.

"She's gained a lot of weight in her arms and her stylist has told her she should not show them off," the insider says. "So her dress now has sleeves when it was sleeveless before."

Continues the source, "Kanye is annoyed, as the dress is by his best friend Riccardo Tisci at Givenchy, and he feels embarrassed that Kim is messing with a beautiful piece of art."
A pregnant woman's body is always beautiful. But should Kim have chosen a different dress to flatter her new bod? You decide....