COMEBACK KIDS: Lyfe Jennings "Boomerang" (SINGLE) & Open Letter To Fans + Jaheim's "Age Ain't A Factor" (SINGLE)
May 08 | by _YBF
Two dudes who've been absent from the music scene (when it comes to releasing new tracks), Lyfe Jennings and Jaheim, both released new music this week. Listen to "Boomerang" and "Age Ain't A Factor" inside....
Ladies and gentlemen....Lyfe Jennings is back. Back from where? Prison and obscurity. You'll recall that Lyfe has experienced multiple stints in the slammer since he first hit the scene. He's been in jail so often that most folks, including "LAHH ATL" star K. Michelle, often just assume that he's locked up. But trust...he's out. And he's posted a thank you letter to all the fans who've stuck with him through it all....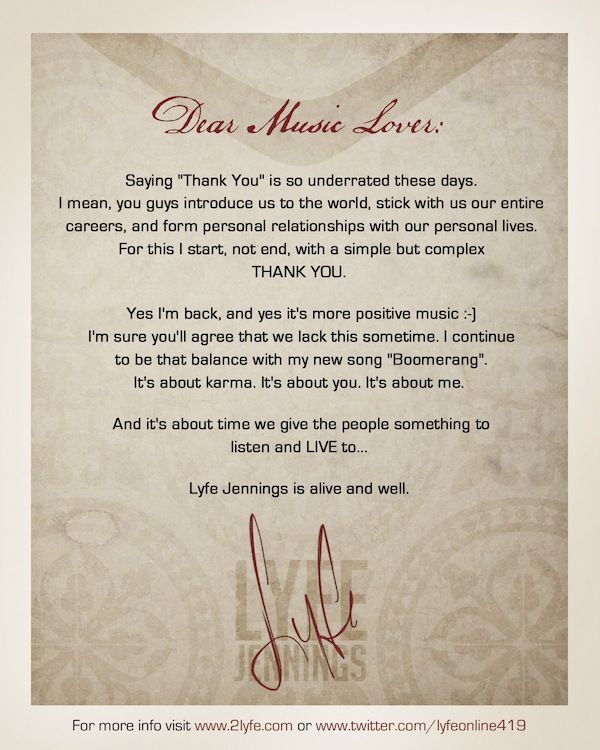 As he works on his fifth album, Lyfe has entered into a joint venture with Mass Appeal Entertainment and wrote his new song "Boomerang". Produced by G2G and LaShaunda "Baby Girl" Carr for Mass Appeal Ent. / INgrooves Fontana, Lyfe says the song is about karma.
"If you break a woman's heart that shit is going to come back to you. If you disrespect her and don't pay attention to her feelings, she's not just going to get over it. You don't realize that when it's happening though. That's what the songs about."
Listen to "Boomerang" here:
And in other comebacks....
On his new single "Age Ain't A Factor", Jaheim pays homages to the sexy cougars and jaguars (older women) who're giving these young chicks a run for their money!
Because he's been gone for a minute, he's calling his new album, "Appreciation Day." And it's scheduled to hit stores this fall. His message to his fans is,
"It's been so long since I've had a chance to create music from my heart for the fans that have loved and supported me from the start. I decided to call the project 'Appreciation Day' because that's exactly what this album is. My show of appreciation to them. It's a feel good album with very special messages hidden in every song. I'm looking forward to this journey with my fans."
In an attempt to further display his loyalty to the fans, Jaheim, in association with Atlantic records will be conducting a Mother's Day giveaway that will provide an all-expense paid weekend for a fan and their Mother to attend his upcoming May 11th show in Atlantic City.
"It was important for me to do something special for the Mothers out there. These ladies give of themselves all year round. I'm, just sorry I couldn't make the day beautiful for every woman everywhere."
Also, listeners will notice the not-so-subtle homage Jaheim pays to Luther Vandross in the song. Glad he put that purple suit away though...