*UPDATED* RUMOR CONTROL: "American Idol" SHOCKER -- ALL The Judges FIRED?! A Source Says It's NOT True (And Mariah's Got A New Album & New Manager On The Way!)
May 09 | by Natasha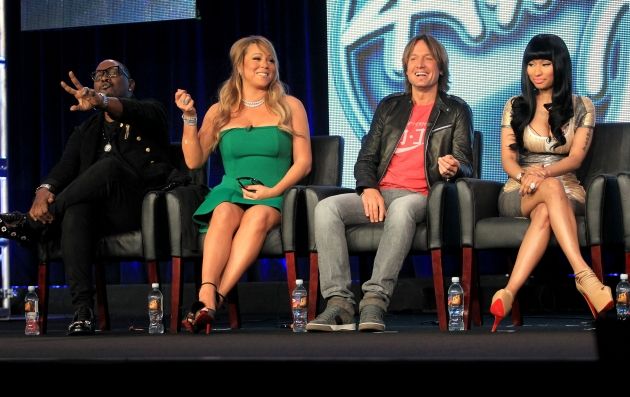 Uh oh! Looks like all the cattiness between the "American Idol" judges has backfired. Because word on the internet streets...is that all four judges are allegedly getting the boot next season. The shocking deets inside...
When reps for everyone involved either don't return calls or decline to comment all together, that means something's up. Entertainment site The Wrap reports their inside source says "Idol" producers are done with the continuous drop in ratings, and they're ready to gain their core audience back. That means firing all four current judges for a clean slate.
"All four are gone," the insider told TheWrap. "They feel they've lost their core audience and they want it back...No more big checks for divas."
And despite Nicki Minaj, Mariah Carey, Randy Jackson and Keith Urban all having options to return in their contracts, Fox reportedly will NOT be picking them up. Womp.
Nicki and her $12 million will have to find someone else to give growling faces to. Because Mariah's $18 million "Idol" diva self is also out of there, supposedly.
The Wrap says Fox declined to comment and the judges' reps didn't return calls for statements. But our own very credible source close to the situation tells us this is all untrue. We're told no one has been fired (at least not yet) and, in fact, the judges have only discussed their return (and not their exit) with Fox execs.
Time will tell.
Meanwhile, in some "coincidental" timing, Mariah's new video was just given the greenlight to premiere during an upcoming episode of "Idol." But it was also announced today that her co-star, Randy Jackson, was just dropped as her manager. Double womp.
Randy signed on as her manager in 2011, after working with her in other ways since the 90's. And both say their split was amicable and due to hectic schedules. But both will probably have one less show on their plates next year.
Reportedly, MiMi has now signed on with Alicia Keys' management.
And another "coincidence"--Alicia is performing her brand new single "Tears Always Win" tonight on "Idol." Go figure...
*UPDATE* Randy Jackson has just confirmed he is, in fact, leaving the show. He tells E! News this 12th season will be his final one:
"Yo! Yo! Yo! To put all of the speculation to the rest, after 12 years of judging on American Idol I have decided it is time to leave after this season...I am very proud of how we forever changed television and the music industry. It's been a life changing opportunity but I am looking forward to focusing on my company Dream Merchant 21 and other business ventures."
Good luck Randy!