Erykah Badu Does HILARIOUS Interview With Kendrick Lamar + Alicia Keys Writes To Judge To Save Lauryn Hill...& Lauryn Says Thanks
May 09 | by Natasha
Erykah Badu switched jobs for a day to work for Interview magazine. And her first subject...is hot rapper Kendrick Lamar. Check out what she asked him about how he chooses groupies, who he's scared of having his business out there and more...
In the latest issue of Interview magazine, Erykah Badu plays reporter and interviews "Swimming Pools" rapper Kendrick Lamar about his cereal, his groupies and more. But our fave answer? His insightful comment about what he envies about women. This could be the reason chicks love his music so much.
Here are the highlights from their Interview chit chat:
BADU: How do you choose chicks from backstage?
LAMAR: How do I choose chicks from backstage?
BADU: Yeah, what is the protocol?
LAMAR: I try not to. [laughs] I'm too scared. Anybody who knows me knows that I'm probably the most scared person when it comes to that because I'm so caught up in the act of sex, of something going crazy, going out of my control. I'm too paranoid.
BADU: [laughs] So you just pass?
LAMAR: I've got to because I've seen a situation where it got totally out of hand, where something seemed so innocent, and now this person has got allegations on them. It spooked me. This was before my career really started, though—before any "Kendrick Lamar." And that right there? It changed my whole perception about certain things. I'll always keep that in the back of my head.

BADU: So who is your asshole-checker?
LAMAR: Who is my what?
BADU: Your asshole-checker—the person in your crew or your family who let's you know if you're being a asshole.
LAMAR: I have two, actually. [both laugh] But the main one is a friend of mine—a lady friend who has known me since high school. She has always been someone, since day one, who has said something whenever I'm an asshole, or also if I'm doin' something positive—but more so when I'm out of my element.

BADU: What's your favorite cereal?
LAMAR: Fruity Pebbles. When people ask for my rider, they think I'm crazy: Fruity Pebbles, baked chicken, bottle of Hennessy, and some Polo socks.

BADU: What do you, as a man, envy about what it means to be a woman?
LAMAR: There's just a certain knowledge instilled in a woman. There are these things that women have that men just can't grasp: the understanding of love; the understanding of being; having a certain type of care in your heart and knowing when to be compassionate; knowing how to be a confidante…
BADU: That's a good perspective. Something I envy that men have is that ability to grow a goatee. I think that'd be really hot on me.
And one of the only normal questions:
ERYKAH BADU: Can you describe how it feels to be in this cyclone of good fortune that you're experiencing right now? How are you handling all of it?

KENDRICK LAMAR: I always thought money was something just to make me happy. But I've learned that I feel better being able to help my folks, 'cause we never had nothing. So just to see them excited about my career is more of a blessing than me actually having it for myself. My folks ain't graduated from high school or nothing like that, so we always had to struggle in the family—and I come from a big family. But as far as me handling this, it's a weird feeling because it's like a blur right now. I think my worst problem is actually living in the moment and understanding everything that's going on. I feel like I'm in my own bubble. People tell me all the time, "You're crazy, going there by yourself," because it wouldn't have soaked in yet that I'm supposed to be quote "Kendrick Lamar"—whoever this guy's supposed to be. I still feel like me. So it's really about me trying to adapt—that's like the toughest thing for me right now. I feel like I'm in my own world.
Meanwhile.....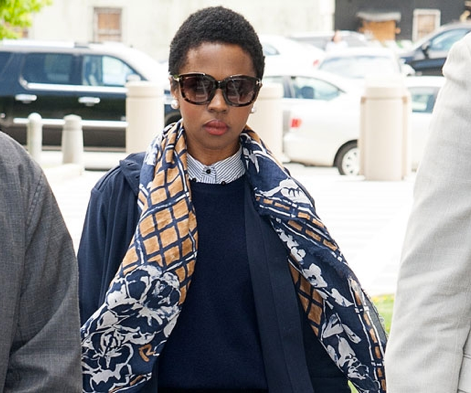 Some singers are reaching out on Lauryn Hill's behalf to make pleas to her judge in her tax evasion case. And on her Tumblr, Lauryn pointed out both Alicia Keys & Stevie (as well as the name of each fan who reached out) as being two of the celebs going to bat for her:
"I want to extend a sincere thank you to the following people, who wrote letters to the judge on my behalf: Linda Banks, Edison, NJ Davonne Breedlove Binna Choi, Beijing, China Hafiz Farid, East Orange, NJ Miriam Anne Banks Farrakhan, Union, NJ Vincent Gardner, New York, NY Michael Green, Fair Bluff, NC Elitta Harden, Ft Worth, TX Mrs. Valarie Hill, South Orange, NJ Maureen Hogan, Jersey City, NJ Walter Jones, New York, NY Alicia Keys Elena Lau, Toronto, Canada Jerald Miller, New York, NY Tracy Morris, Jacksonville Beach, FL Elise Munoz, France Bunmi Olukoya, Laurel, MD Jimmie Pierre, Trenton, NJ Cherisse Pittman Gabrielle Fulton Ponder, Atlanta, GA Dominique Reese, Oakland, CA Chris Schwartz, Philadelphia, PA Ashley Scott, Brooklyn, NY Derek Singletary, Astoria, NY Dr. Sara Tai, Manchester, UK Suzette Williams, Teaneck, NJ Lisa Willis, Philadelphia, PA Stevie Wonder Jonathan Wunderlich, Cabarete, DR"
Sweet.
And she expressed her gratitude to all her supporters:
"And thank you Jerald Miller, for taking the initiative to put this together. I also want to thank all of my family, friends, business associates, and fans who have called, emailed, sent texts, and posted messages of concern, encouragement, and support. I appreciate the well wishes, and I thank you for your prayers. Also, to anyone who may have written letters that we did not know about, thank you also, all of you. I will have more to say soon, but did not want to further delay expressing my appreciation. Thank you again, MLH"
Keep you rhead up L Boogie!