TV SHAKEUP: NeNe Leakes' "The New Normal" & J-Hud's "Smash" CANCELLED! + "Scandal" Gets Renewed For Third Season!
May 11 | by Natasha
Gladiators rejoice! "Scandal" has been officially renewed for a season 3. But NeNe Leakes & Jennifer Hudson weren't so lucky in the TV department. Check out who got the axe and who's coming back inside...
Now that (we think) we pretty much know who the mole is (can we talk about how everyone needed a BOTTLE of wine while watching that last episode?), it's only right we continue the rollercoaster-o-scandals with a Season 3. ABC has renewed Kerry Washington and co. for a season 3. So more of OliFitz, Quinn & Huck's lethal shenanigans, and Harrison possibly taking over Pope & Associates are all on the way!
By the way, last week's episode copped a series HIGH in ratings, beating out "Idol". And next week's season finale will probably be the best ish on TV period.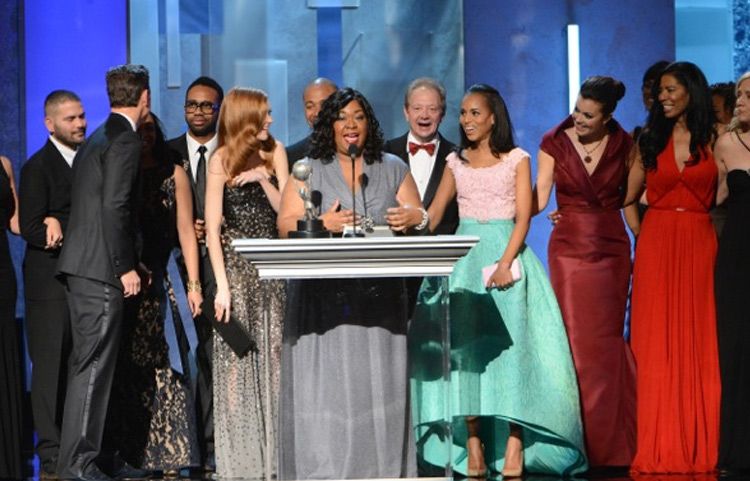 Genius creator and writer Shonda Rhimes responded to the news about their NAACP Award winning show saying:
And now I can tell you that GA Season 10 Writers Room and Scandal Season 3 Writers Room have been going since May 1. So we're already ahead.
Yassssss. On another note, Kerry's new movie Peeples is bombing at the box office in the #3 spot this opening weekend. But it's all good. She's got a hit show on her hands so she still WINS.
ABC also renewed a few of our other faves: "Suburgatory," "Revenge," "Shark Tank" & "Modern Family."
But there were lots of shows on the chopping block yesterday. And one of NeNe's 3 shows was one of them. While she'll be continuing on as "Coach Roz" on "Glee," she won't be on "The New Normal." Because that show just got axed. NBC seemed to pretty much clean house as most of their new shows and a few of the veteran shows all got the boot.
NeNe spoke on about the cancellation saying:
I worked wit some of the most amazing people ever on The New Normal! I love u all! We will meet again...I love my fairy God Mother @MrRPMurphy & @AliAdler 4 believing n me & givin me an amazing opportunity! No mo New Normal but we r forever
But don't cry for NeNe! She's got "Glee" and "RHOA" and her new wedding reality show spinoff "I Dream of NeNe" all to keep her cozy at night. Work.
Weight Watchers spokeswoman Jennifer Hudson also won't be appearing on network tv this fall. After two seasons, and this last season barely got the greenlight, NBC gave "Smash" the axe.
The show tried to give Jennifer a more prominent role to beef up ratings, but that apparently didn't work.
So Jenny will be focusing on belting out those Weight Watchers tunes every 5 minutes on commercials and working on her own music.
The Randomness:
1. The Butler movie release date has now been pushed to August 16th. STORY
2. "Beverly Hills Cop" tv show has been rejected by CBS, and is being shopped to other networks. STORY
3. Regina King's show "Southland" and Hill Harper-starring "CSI: NY" both got cancelled. STORY
4. Damon Wayans Jr. and his "Happy Endings" show--cancelled by ABC.