RAPPERS' DELIGHT: Kanye Performs New Track "Awesome" & RANTS At Surprise NYC Show + Drake (& His OVO Fest), Khaled, Swizz & More Shoot "No New Friends" Video
May 16 | by Natasha
Kanye West returned to NYC yesterday to give a secret concert last night at the Adult Swim network Upfronts. And, once again, he performed his new track "Awesome" and dedicated it to his baby moms Kim Kardashian. And he also did a surprise listening session (pictured above) in the City last night.
We've got pics and video, plus Khaled, Drake and more on the set of their "No New Friends" video...
Before heading backstage or elsewhere in the city (we can't tell) to preview his music for a room full of folks, Kanye West took the stage at the Roseland Ballroom during the Adult Swim Upfronts (like he did 5 years ago as well) to rock out. Kanye style.
This means a performance, inside of a pyramid, of his new song "Awesome" no one knows (and it seems no one is really feeling) complete with interstitial rants about the paparazzi. He must still be mad about walking head first into that steel pole in front of them.
Check out video of his rant below. He said he's "not apologizing to no muthaf*ckers" and he's not a celebrity. This guy is hilar:
And videos of his performances of "Awesome" and "Yeezy Season":
Kanye's set to perform on the "SNL" season finale this Saturday, May 18th.
In other rap news: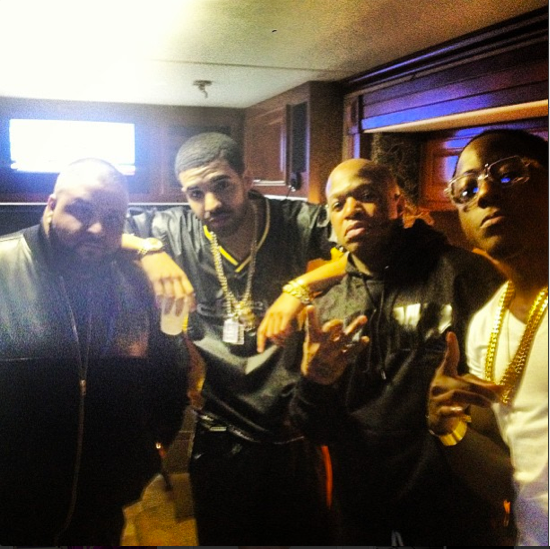 DJ Khaled got all his homies together to shoot the video for "No New Friends" off his upcoming Suffering From Success album. The DJ--who rarely ever does anything more than scream out "We The Best" on every track--brought in Drake (who appears on the song), Birdman, Ace Hood & Swizz Beatz to shoot the vid.
Everyone else was just there to make a cameo and to drink up: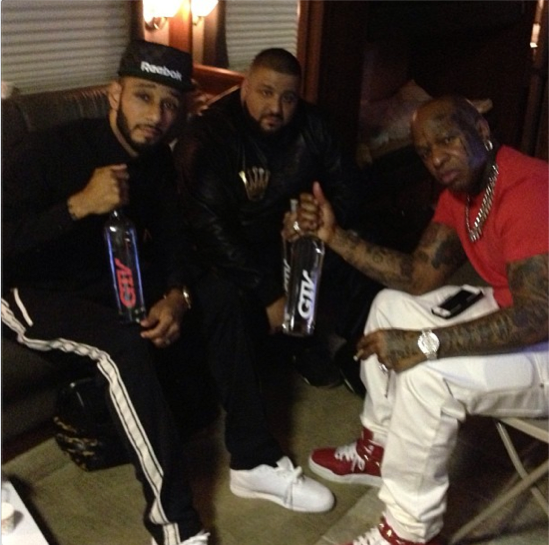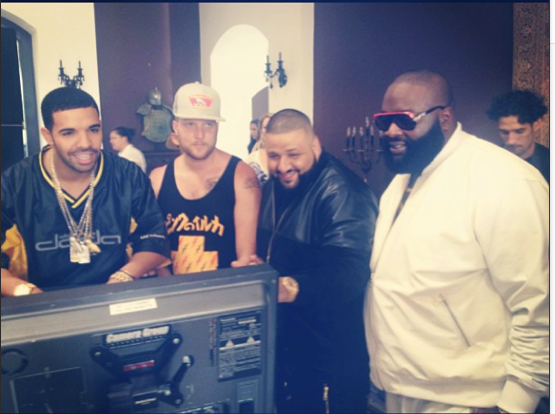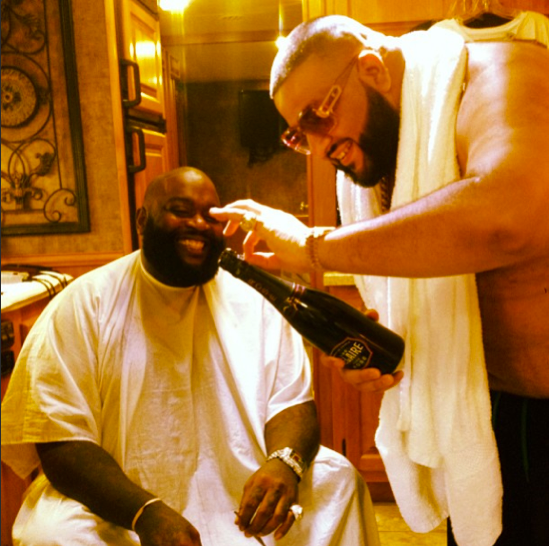 Rick Ross is on the track and showed up to shoot the vid of course. Looks like Ricky's getting a beard shapeup....
By the way, Drake announced today that the 4th annual hip hop summer festival OVO FEST will for the first time span two days and take place August 4th and 5th at Toronto's Molson Canadian Amphitheatre.
The T.Dot native sent out a press release about his festival:
Tickets to OVO FEST go on sale May 24th at 10:00AM EDT and will be available as a two day festival pass, with a limited number of lawn seats available as single day passes. Night one of OVO FEST will feature a headlining performance by rising star Frank Ocean with special guests including James Blake. Night two will be headlined by Drake and feature other artists to be announced. OVO FEST, which last year sold out in seven minutes, will once again see Drake bring hip hop's most buzzed about artists to his hometown in advance of his upcoming album NOTHING WAS THE SAME.
Nice.
Photos: 1cychitheprynce Instagram, Questlove's Instagram, DJ Khaled's Instagram, Swizz Beatz's instagram
Videos: Miss Info, Ddotomen