MAGAZINE FAB: Dwyane Wade Speaks To JET About His Custody Battle & Relationship With Ex-Wife Siovaughn
May 17 | by _YBF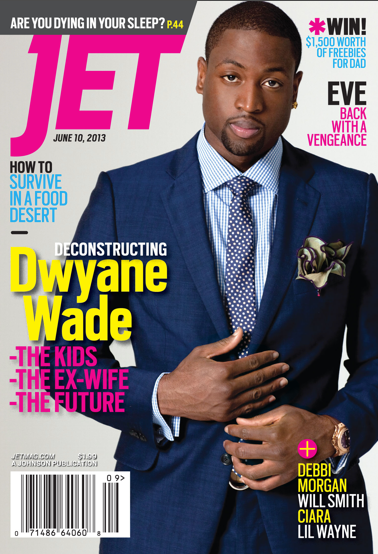 In the latest issue of JET, Miami Heat baller Dwyane Wade opens up about raising his sons and tells how his drama-filled custody battle put a strain on his co-parenting relationship with ex-wfe Siohvaughn Funches. We can only imagine. See the highlights inside:
After penning a successful memoir on parenting, A FATHER FIRST: How My Life Became Bigger than Basketball, and starring in DOVE's "Men+Care" Fatherhood Campaign, Miami Heat star Dwyane Wade opened up to JET Magazine this week about the life experiences that shaped his parenting. And his cover shot looks damn good.
From his prolonged custody battle, to his mom's addiction to heroin and alcohol, the gold-medal winning athlete gets candid about his role as a full-time dad. Here are the highlights:
Wade on his reason for pushing through the difficult custody battle:
"I didn't set out to get full custody but I wasn't able to see my kids the way I wanted and I'm not a parent who's going to run away from his responsibilities. I was probably a terrible husband, but I pride myself on being a good dad."

Wade on his rocky relationship with estranged ex-wife Siohvaughn Funches:
"It's been six years and hopefully one day she and I can get to the point where it's a lot easier than it is now to co-parent."

Mom Jolinda Wade on how Dwyane's dad impacted his fathering:
"Dwyane came up not having a father around, so he didn't think he was missing anything. But having his father take over the key role in parenting was very impactful. That was the first view he got as a young man to see what to do and what not to do."

Dwyane on his fathering skills of his two sons Zaire, 11, and Zion, 5 and nephew Dahveon Morris, 11 (who he has legal guardianship of):

"I'm the kind of parent who asks my kids questions like what would be your ideal thing to do in the summer? This year it's Disney World," explains Wade, the proud father of two boys. Even though I make the final decision, I want them to feel involved. Not only in vacations but other things as well."
Elsewhere in the issue, JET talks to rapper Eve about her long-awaited Lip Lock album and romance to UK millionaire Maximillion Cooper. Also, T.I. and Marvin Sapp discuss raising their sons in a special Father's Day story.
Dwyane Wade's issue of JET Magazine hit the stands on May 20.