LATE NIGHT FAB: The-Dream & Kelly Rowland Rock "Where Have You Been" On Leno + Will Smith RAPS "Summertime" On Letterman
May 21 | by _YBF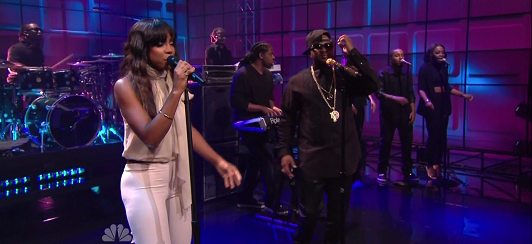 Last night, The-Dream performed his latest single, "Where Have You Been" with Kelly Rowland on "The Tonight Show". Watch the performance inside and see Will Smith's impromptu performance of "Summertime" on "The Late Show."
Singer Kelly Rowland, who'll be joining the esteemed panel of judges on "The X Factor", graced the stage on "The Tonight Show with Jay Leno" with singer The-Dream. The duo performed his latest single, "Where Have You Been" off of his IV Play disc, which hits stores May 28.
Following the appearance, The-Dream took to Twitter to thank his glamourous duet partner,
"K.Row..... Thank You from Me and the Lovecult for being here for me Today! Jay Leno... I appreciate it soooo much. I LOVE you!"
You can catch the duo live when their joint tour kicks off May 23rd. Also, The-Dream penned Kelly's latest single, "Dirty Laundry" which signals the beginning of a beautiful musical partnership.
Watch the performance here:
Also on late night television...
Will Smith, in a shiny blue silk suit and burgundy button down that only he could pull off, appeared on "The Late Show with David Letterman".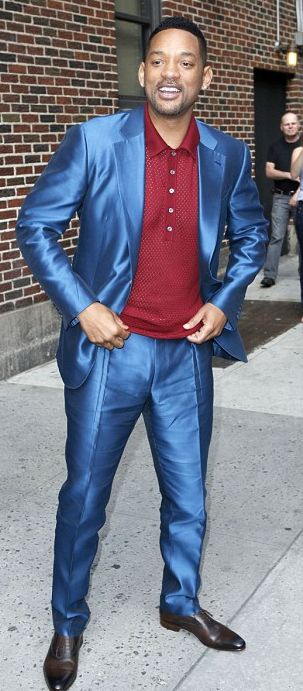 Will, who displayed his movie star bod to the throngs of fans screaming his name, appeared on the chat fest to promote After Earth, the film he stars in with son Jaden (hitting movie houses June 7th).
Before he sat down with David, Will was hyped up by the band playing his hit as his intro music, so he grabbed the mic and spit "Summertime". Ugh, love him.
And during a recent interview with Hip Hollywood, Will revealed that his friend Kanye West (whom he vacationed with earlier this year) has been incouraging him to get back in the studio. "I might get the bug, I'm not gonna do it unless I'm truly inspired."
Awww shucks.
Watch Will's impromptu performance of "Summertime" here:
EXTRAS:
1. A devastating tornado swept through Moore, OK yesterday killing 91 24 people (the death toll has changed after the discovery of double counting in mutiple agencies) and injuring at least 145 more. President Obama declared the city a federal disaster and will address the nation later today. Our prayers are with those who have lost so much. You can donate to the Red Cross to aid in the relief efforts. Story.
Photos via Splash