Kelly Rowland REPORTEDLY Earning $1 Million For New "X-Factor" Gig + Christina Milian's Daughter Violet Meets Oprah Winfrey!
May 22 | by _YBF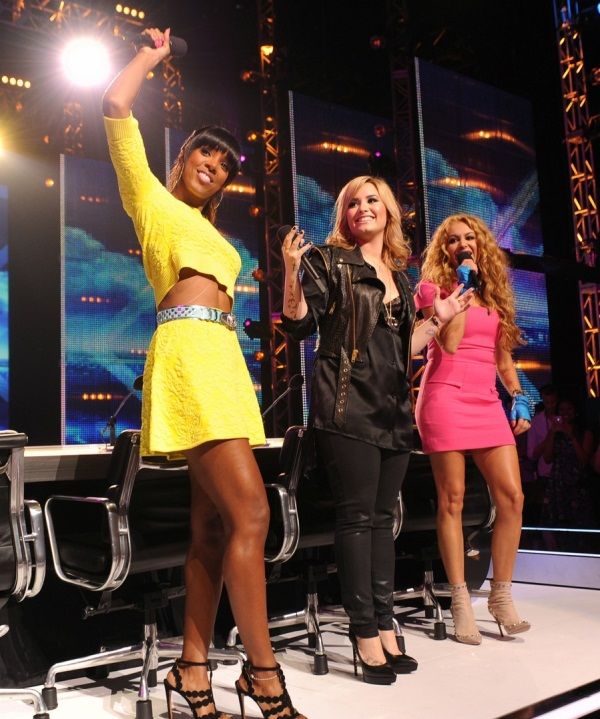 R&B starlet Kelly Rowland's "X-Factor" salary has been revealed. Find out how much she'll earn at the judge's table inside and see which legendary tv personality posed for pics with Christina Milian's daughter Violet on the set of "The Voice"...
Yesterday, Kelly Rowland (shown above with Demi Lovato and Paulina Rubio) made her first official appearance as an "X-Factor" judge since FOX made the announcement earlier this week. In a statement about his selection, "X-Factor" creator Simon Cowell said,
"It's taken more than a decade but I'm delighted to finally be on a panel with three girls (I think!). Paulina and Kelly both have great taste and massive experience in the music industry and together with Demi, this is going to be a fun panel. It just feels like the time to do something different"
And Kelly, who previously appeared on the UK's version of "X-Factor" shared her joy saying,
"I am very excited to be reuniting with Simon Cowell and 'The X Factor' family. It feels great to be able to take this journey here at home in the States."
The "Dirty Laundry" singer is reportedly earning $1 Million to sit on the panel! Though it's a far cry from the $15 Million the execs wasted on Britney Spears last season, it's still a respectable income and will allow Kelly to promote her Talk A Good Game disc (June 18th) on a national platform.
Congrats Kelly!
In other LA entertainment news...
At the tender age of three, Christina Milian's daughter Violet has experienced what many people dream about...meeting Oprah! Yesterday, the adorable tot met the icon on the set of her mommy's job at "The Voice." Christina tweeted about it all saying:

"Violet is one lucky girl! Today she met THE LEGENDARY @Oprah! Wow! What an honor! V was totally into her and so was O! Man, my daughter lives a life! Not to mention I had some great moments with her! Thanks for coming by #TheVoice #Oprah! We you!"
And after a wonderful afternoon with The O.....
Christina was spotted heading out to dinner, rocking her new red weavaliciousness.
The Cash Money record artists dined out at The Supper Club in West Hollywood with her boyfriend, Rap-a-Lot Records CEO Jas Prince. Fans of Chris should expect to hear new music from her Cash Money debut in the forthcoming months.

Photos via PacificCoastNews.com/FOX