Azealia Banks CAT-ASTIC "Life Ball" PERFORMANCE + Jay-Z INVESTIGATED For ROC NATION Signing + Kanye West's "New Slaves" SCREENING Halted In Houston
May 26 | by _YBF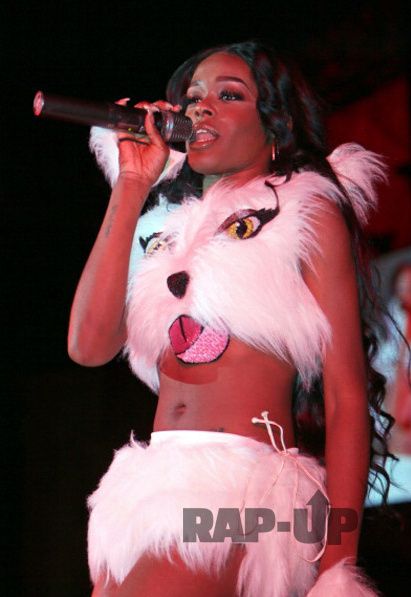 Rapper Azealia Banks hit the stage at the "Life Ball" in an outfit that had nine live. See her performance inside and get the deets on a new ROC Nation Sports investigation and how the Houston Police Dept. shut down Kanye West's "New Slaves" screenings.
Rapper Azealia Banks performed at the "Life Ball" in Vienna, Austria last night and she proved why she's truly a darling of the fashion world.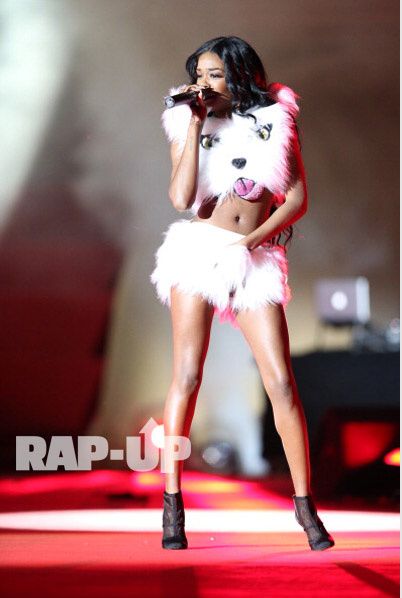 Before an A-list crowd that included Fergie, Bill Clinton and Elton John, the "1991" rapper donned an outfit which made her look like a human feline. Fans of Azealia will note that she's an avid lover of cats...so the outfit made perfect sense.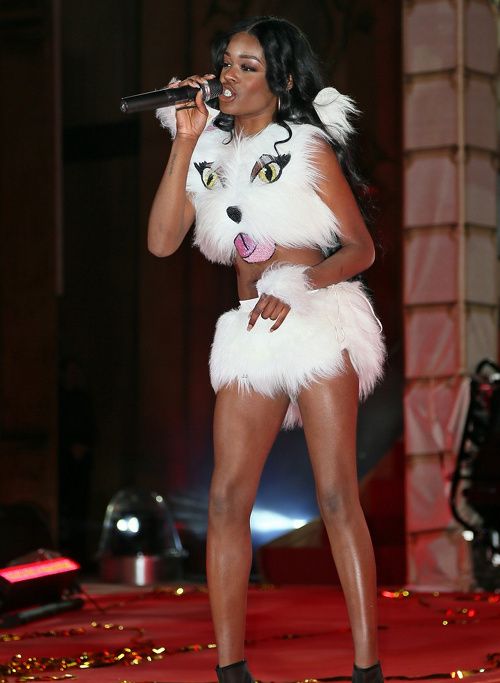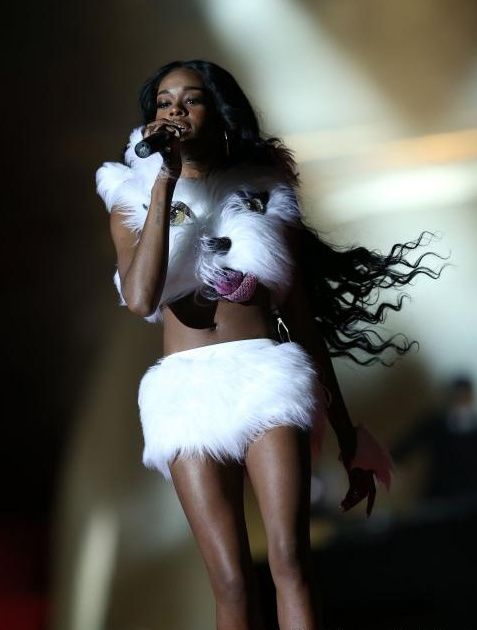 Thought her Broke With Expensive Taste disc has been pushed back, we've learned that her next single will be "ATM Jam" and feature Pharrell.
Watch Azealia prepare to hit the stage here:
Watch "212" here:
In other rap news....
Remember the Roc Nation signing of Geno Smith from a few days ago? Though the signing was good news for Roc Nation Sports, it wasn't such a good look for rapper Jay-Z. Because The NFL Players Association has a "runner rule" that bars non-agents (e.g. Jay-Z) from helping recruit athletes for agencies, an Instagram pic of Jay-Z and Geno looking like old pals has raised red flags.
According to NFL.com, Jay-Z is being investigated for violation of the runner rule, and that isn't good news for ROC Nation Sports, which has signed Skylar Diggins and Robinson Cano in the past few weeks.
So what happens next? Right now, The NFLPA plans to send a letter of inquiry to Kim Miale, Geno's ROC Nation rep, to find out what "role" Jay-Z's played during the process.
On a snarky note Geno's former adviser, John Thornton (whom Geno fired BEFORE he signed to Roc Nation) told CBS, "I was in those meetings, and Jay-Z connected with him on many levels."
Hmmm.....after John's quote went public, he backtracked and said he had been "misquoted." We doubt that seriously...
We're sure this will be a minor blip for Jay-Z's legal team....and we won't hear anything else about that "inquiry". Remember the "inquiry" into the Cuba trip? Neither does anyone else....
And down in the Bible belt...
Fans in Houston, TX will have to wait for Kanye West's "New Slaves" video to hit YouTube and VEVO after three planned screenings all failed to start...thanks to authorities. We're not sure what the Houston Police Dept. has against Yeezy, but they wanted no parts of his political b.s.
According to the Houston Chronicle, Kanye tweeted on Friday that he'd be screening his "New Slaves" video at the Rothko Chapel, Central Library downtown and the George Bush Monument....but those sites were ALL effectively shut down by the HPD before the screenings ever started.
One shut down was blamed on "technical difficulities, meanwhile, fans were threatened with arrest for trespassing at the other spots. With no official word on why the -ish didn't happen, we will defer to Kanye's Hurricane Katrina rant..."George Bush doesn't care about Black people"
Photos via Rap-Up/Getty/Instagram