Karrueche Tran REPORTEDLY Living With Chris Brown....AGAIN + Rihanna & Melissa POST PICS From Morocco's "No Basic Zone"
May 26 | by _YBF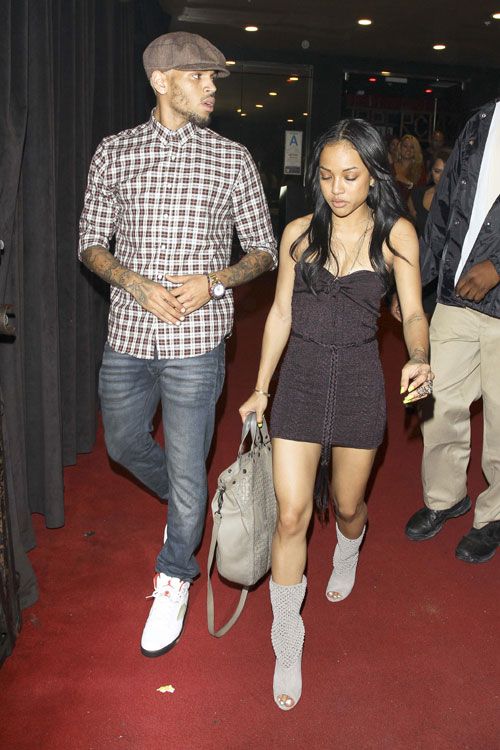 Sources close to Chris Brown and Karrueche Tran say she's moved back into his home! Get the deets on their cohabitation inside and see pics of Rihanna and Melissa Forde posing for flicks in what they called Morocco's "#No Basic Zone".
Chris Brown and Karrueche Tran are living together again....according to TMZ. Sources say the couple rekindled their romance shortly after Chris 24th birthday and have been living under the same roof (the one he painted with graffiti) ever since.
But the second time around, Karrueche is playing it smart. Folks close to the couple say she's keeping her apartment...just in case.
In other Chris Brown news....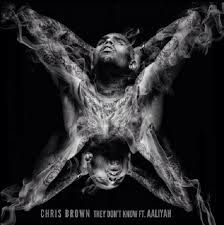 The singer revealed the cover art for his upcoming collaboration with Aaliyah, "They Don't Know." The track will appear on the X album.
And over in Morocco........
Rihanna posted a few pics of her "Rock Star 101" lifestyle as she partied in with her bestie Melissa Ford. In one photo, she poses in a fancy tub saying, "Lil ol me in my big ol tub!!! #moroccolife @charliebymz #swimwear".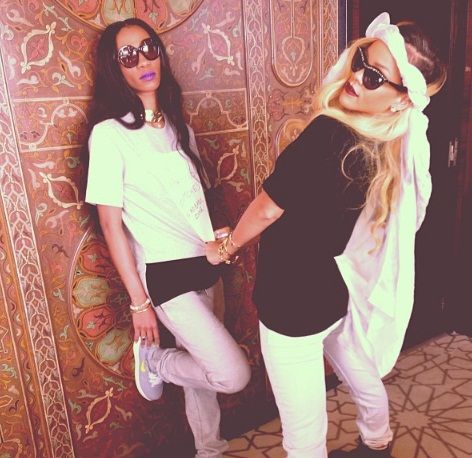 We're sure their designer duds cost thousands of dollars, but it's interesting to see what RiRi's perception of the "thug life" might be. She tweeted fans captions like "Thugging" and "Morocco $treet".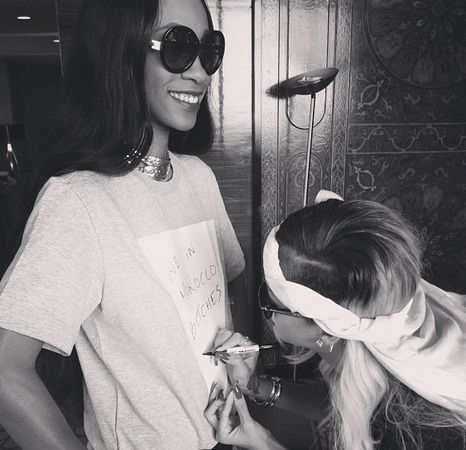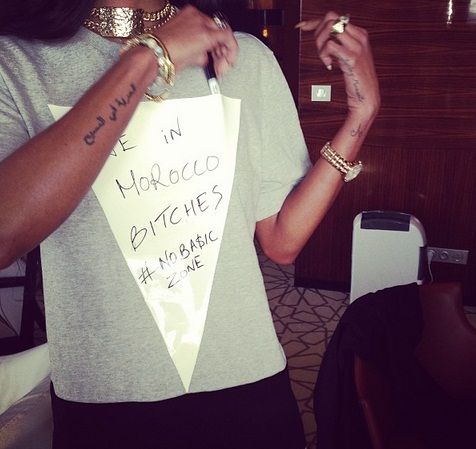 And during one pic, we witnessed her writing on a message on Melissa's shirt that read "#No Basic Zone."
Though we haven't heard a response from RiRi about Chris and Karrueche living together, we can only imagine what the "next" message on Melissa's shirt might read. We all know she's great at sending out subliminal shots....
BONUS:
Though the "official" remix for Rihanna's "Pour It Up" only featured Young Jeezy, Rick Ross, Juicy J, and T.I., a new version has surfaced and it adds a verse from 2 Chainz. Enjoy!
The Randomness:
1. 50 Cent pays for the horse and carriage carrying the casket of slain Queens, NY teen. Story.
Photos via Instagram/Getty