Ciara SUED For BACKING OUT Of Gay Pride EVENT! + K. Michelle BREAKS DOWN Performing "The Worst Man I Ever Had" In NYC
Jun 07 | by _YBF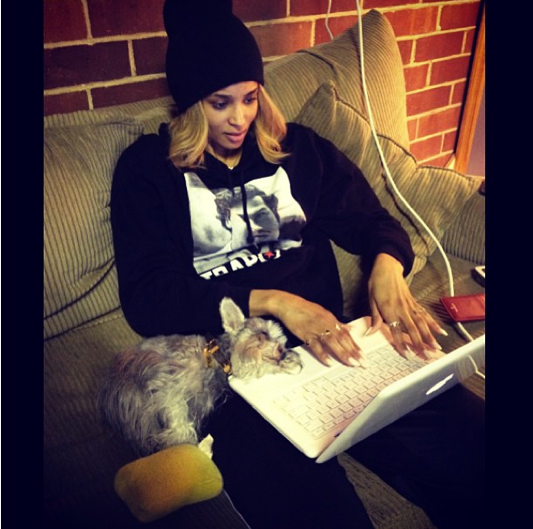 Singer Ciara was sued by an LA gay bar for backing out of a pride event. Find out why CiCi's lawyer says the lawsuit is bogus inside and watch K. Michelle's tearful breakdown during her sold-out show in New York City....
"Body Party" singer Ciara was slapped with a lawsuit by "The Factory", a popular LA nightspot, that claims she backed out of one of their event's during L.A. Pride week. Don't piss of the kids CiCi!
TMZ reported on the lawsuit, stating that the club claims Ciara signed a $10,000 deal to appear at the club on June 7 (tonight) before taking the main stage at the 2013 L.A. Pride parade tomorrow. In the documents, the club says they didn't expect Ciara to perform, but she seemed amenable to making an "appearance". However, they claim Ciara unexpectedly pulled the plug on June 3, leaving the nightclub without a big star for tonight's pre-gay parade bash. They're now suing her for breach of contract and they want back all the money the club spent to promote her appearance PLUS the cash they're expected to lose. Bloop.
But Ciara's rep thinks the whole case is bogus and released a statement saying,
"Ciara's commitment to perform at L.A. Gay Pride on Saturday night prevented her from making such a Friday night appearance. Despite being notified early last week that Ciara could not appear, the Factory continued to market and promote Ciara's appearance."

"The reason for the continued marketing/promotion is unclear, as it is not known why the Factory would intend to continue to mislead the public, to cause damage to the L.A. Gay Pride festival and to attempt to portray Ciara in a negative light."
Ciara is expected to hit the stage tomorrow...
In other music news....
During a sold-out show at Highline Ballroom in New York last night, singer and "Love & Hip Hop Atlanta" star K.Michelle donned a wedding veil and sparkling bodysuit to take her fans through an emotional performance of "The Worst Man I Ever Had", her take on Beyonce's "Best Thing I Never Had.
As she cried, she reportedly told her fans a testimony saying, "I thought my career was over. I thought it was over. I didn't have anything and I still get angry and I think that's the reason for a lot of things that I do that I shouldn't. You can't take the excuse, you just have to get better and say why and move forward." We have a few guesses who that's about...

She went on to grace fans with her new single, "When I Find a Man" and she sang her current radio track (which we love) "V.S.O.P."
Watch K. Michelle "When I Find A Man":
K. Michelle's album, Rebellious Soul, is due July 30.
Photos via Axelle/Bauer-Griffin