"Basketball Wives" Stars Tami, Evelyn And Shaunie DISH To UPSCALE On Weight Issues, Domestic Abuse & Backlash, REVEAL Why Jennifer & Royce Are "Non-Motherf***ing Factors"
Jun 10 | by _YBF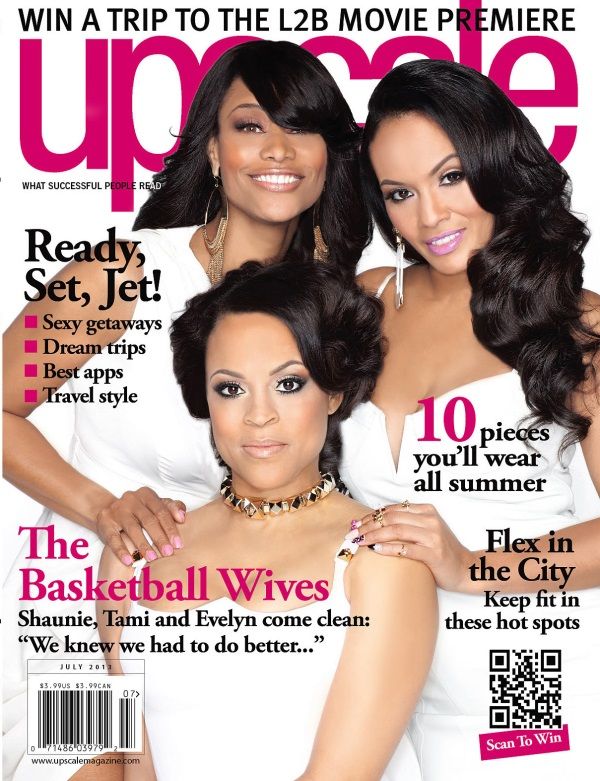 In the latest issue UPSCALE Magazine, Tami Roman, Evelyn Lozada and Shaunie O'Neal of VH1's controversial reality show "Basketball Wives" open about their off-screen drama and why Jennifer Williams and Royce Reed weren't welcomed back. Get the details inside...
VH1's controversial water-cooler reality show "Basketball Wives" is set to return for a fifth season, but its stars Tami Roman, Shaunie O'Neal and Evelyn Lozada will be handling things a bit differently this go round. In the June/July 2013 issue of UPSCALE Magazine, the ladies, who look white hot on the cover, address the public backlash the show received (including an online petition to get it cancelled), fallout from Jennifer Williams' assault and Evelyn's spinoff reality show.
The revealing chat also touches on off-camera issues like Tami speaking on her weight and Evelyn speaking on her domestic abuse case that spilled over onto the screen. And of course, each woman had her own opinion about former castmates like Royce Reed and others who will not be returning. Here are the highlights:
On the negativity of BBW and the consequential loss of advertisers:

"[It] was so difficult to deal with when it was airing and when it was all over with. I remember saying, 'what the hell just happened? This isn't us; we're mothers, we're businesswomen. We have to be smarter. We have to represent ourselves a lot better.'"—Shaunie O'Neal

"People were connecting my behavior on the show with the incident with Chad. They were like, 'Well if she acts like that on the show, then I'm sure she acts like that at home.' I'm a totally different person at home." —Eveyln Lozada

"I was very depressed last summer. I was dealing with some things that were going on with my mother and everything that was happening with the backlash from the show. I started eating everything under the sun. I blew up to about 190-ish pounds. I'm a tall girl, so I wear it well, but I was bordering between [size] 14 and 16 in my clothes."—Tami Roman

"By the time we did the [season four] reunion we all agreed enough is enough. We had a group talk and were all definitely on the same page. We heard the messages loud and clear. We knew we had to do better. It was an eye opener." —Shaunie O'Neal

On the decision to cut Jennifer Williams and Royce Reed from the series:

"It was a chemistry thing. It just became awkward to film or even come up with a conversation. It just wasn't working for TV."
—Shaunie O'Neal

"Royce has been a non-motherf---ing factor for the last two seasons, so it just didn't make sense anymore. And as for Jennifer—Shaunie is [being] nice but I'm going to tell you this—we don't condone the incident with Jennifer, but we do reality TV. You know something's bound to happen when you put a bunch of women together and there's a lot of behind the scenes conversation and gossip going on. So when Jennifer went on this whole anti-show campaign, it was a little tough for us as cast members."
—Evelyn Lozada
The fifth season of Miami's "Basketball Wives" kicks off on VH1 in August.