Miami Heat Wives & Girlfriends Do Team Dinner With The Champs, Chris Bosh Petitions For FULL CUSTODY Of Daughter Trinity!
Jun 24 | by Natasha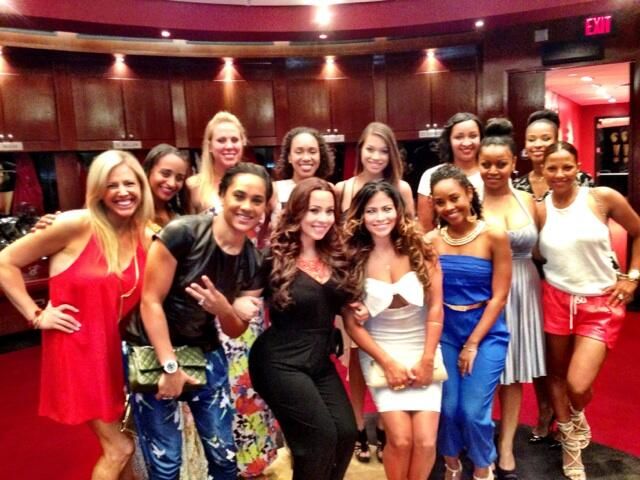 The Miami Heat champs are still celebrating. As they should be. The back to back winners had a big team dinner over the weekend. And they brought their wives and girlfriends to the party. Pics from the locker room inside....
LeBron James' fiancee Savannah, Udonis Haslem's fiancee Faith, Chris Anderson's finacee Tina, Chris Bosh's wife Adrienne and the rest of the WAGS gathered around the teammates for their big Team Dinner recently.
The ladies all had some fun with their fellas to help them celebrate their huge accomplishment. And they made cute gift baskets to stuff in their guys' lockers: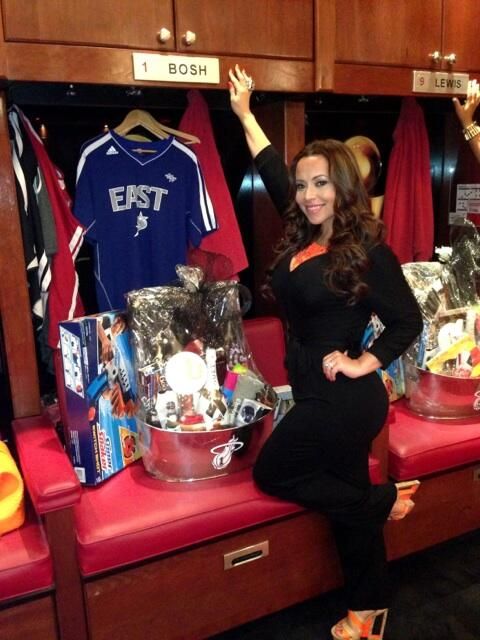 Adrienne tweeted about how they made them from scratch. And Udonis' lady Faith said, "Can't wait to have that last name!!!! #lastpost #promise #lockerroomchronicle."
We're sure she can't. Clearly the chick is getting extra buff for her impending wedding.
BONUS:
And while Gabby was M.I.A. from the team dinner, she was spotted leaving Story nightclub out of the back entrance alongside D-Wade the night of the championship win. Maybe she had to get back to work....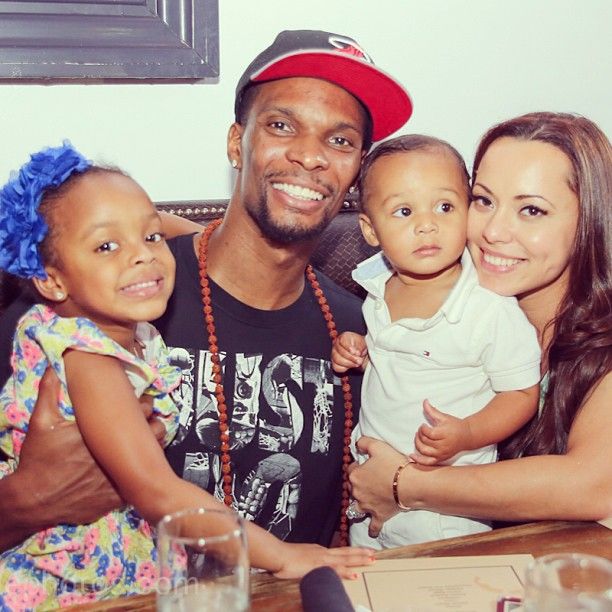 But all is NOT roses in the Bosh household, despite the big Championship win. Chris just petitioned for FULL custody of his daughter Trinity! He and Trinity's mom, Allison, have been at odds for a while now over child support. A little while ago, Allison petitioned for more child support (for the umpteenth time). She currently gets $2600/month when Chris makes multi-millions of dollars. So she wanted that number upped to $30,000 month, but got rejected by a judge.
Chris said he wants full custody because Allison is keeping Trinity from him (wouldn't be able to tell with the daily professional photoshoots Adrienne does with all the kids--including Trinity). And he also says she poisons Trinity's mind against him.
But is the real reason so that he doesn't have to pay child support, esp. with a third child on the way? Wouldn't be the first time a super rich man yanked the kids from the mom simply to avoid those major monthly payments.
The Randomness:
1. Scottie Pippen went and assaulted someone outside a restaurant in Miami this weekend....allegedly. STORY
2. Paula Deen has been DROPPED by Smithfield (the major pork company). STORY
Photos: SPLASH/Adrienne's Instagram/Faith's Instagram