Kanye West Tweets For The First Time About His Father's Day Gift + Jay-Z Forces NEW RULES On RIAA...Policy Change On Digital Sales
Jul 01 | by Natasha
New papa Kanye West broke his Twitter silence about his brand new baby girl North today. Well, indirectly. Get a peek at Kanye's Father's Day gift inside, plus his homie Jay-Z is making MAJOR moves by changing the rules of the music sales game...
Kanye psted on Twitter today for the first time since his daughter was born. And he showed off his first Father's Day girft. He said, "one of the other gifts my girl gave me for fathers day" and posted the below pic: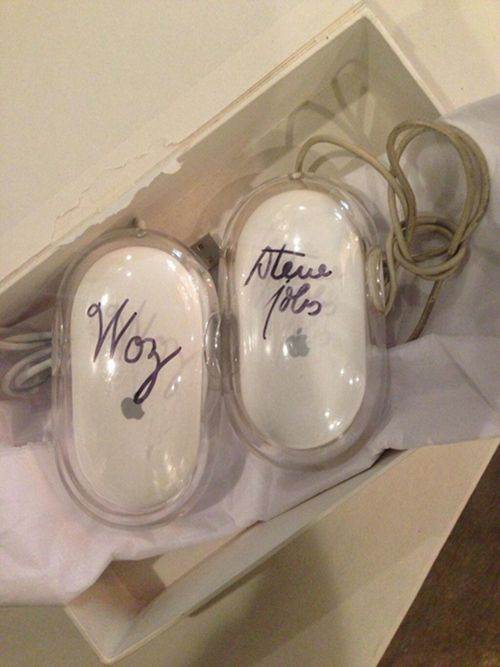 It's an Apple mouse autographed by the late Steve Jobs....and another mouse autotraphed by Jobs' Apple co-founder Steve Wozniak. Kanye has always been a huge Steve Jobs fan...and Woz even came to the hospital to visit his new baby girl, reportedly before Kim's brother Rob even saw her! So this was his gift from his girlfriend Kim K.
That original gift from Kimmy is, of course, his daughter North who was born just one day before Father's Day this year.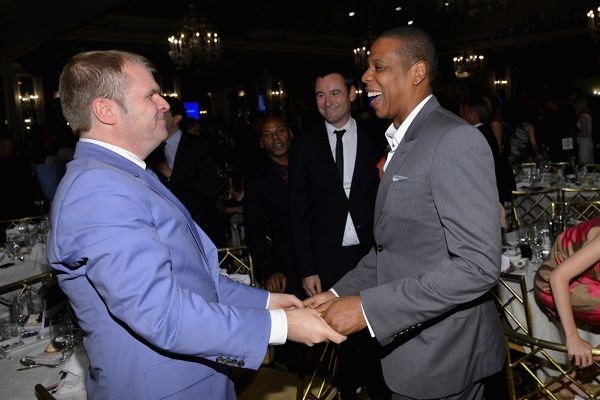 Liz Kennedy, the Director of Communications and Gold & Platinum Program for the RIAA, posted a blog today about the company's common sense policy change about how digital music sales are counted. And they can thank Jay-Z for that.
Jay's been on a "New Rules" tip ever since announcing his upcoming album Magna Carta Holy Grail. And at first, folks like Billboard said they would NOT count the digital sales as "Platinum Status" the first day Samsung purchases 1 million albums to distribute to the first 1 million users to download the MCHG app.
But now....new rules are in order. The RIAA has decided to re-evaluate...and they WILL count the digital Millie immediately with no more 30-day certification hold. And any corporations who buy any amount of digital music will be counted accordingly as well. Liz posted:
By now, many of us in the music business, as well as Jay-Z fans, know that Samsung has purchased one million "Magna Carta Holy Grail" digital albums to be given away to the phone maker's customers. It is a novel and creative marketing move and it has rightly stimulated a healthy conversation about the sale's meaning and implications for the modern music business.

.......

One of our program's requirements is that an album can become eligible for certification 30 days after release date. (There are other rules, of course – such as requiring that the price of the album meet certain requirements.) The 30-day rule exists to take into account potential returns of physical product – CDs, cassettes, vinyl, etc. that could be shipped to brick and mortar retailers and returned, in which case our auditors do not count the sales.

When we first created the Digital Single Award in 2004, we elected not to impose any 30-day rule because there are very few digital returns. According to our auditing firm, digital returns on average account for less than two percent of sales included in reports provided by the labels for certification – most digital retailer Terms of Use/Service allow users to return products only under limited circumstances.

...

We think it's time for the RIAA – and Gelfand, Rennert & Feldman – to align our digital song and album certification requirements. That's why today we are officially updating this rule in our G&P Program requirements. Going forward, sales of albums in digital format will become eligible on the release date, while sales of albums in physical format will still become eligible for certification 30 days after the release date.
So this means Jay has cut out the middle man and made himself platinum (while likely getting paid upfront) the day the album comes out. Talk about a major change in the landscape of how music is sold. We doubt this will be the last time a big corporation teams up with an artist to creatively sell their music.
This is what we call...BOSS moves.
The Randomness:
1. Model Jourdan Dunn gets CANCELLED by Dior fashion show because.....of her 32A boobs?! STORY
Source: Larry Busacca/Getty Images North America