Kerry Washington Gets Wet For The August 2013 Cover Of "VANITY FAIR" + Malaika Firth Lands PRADA Campaign, First Black FACE In 20 Years!
Jul 02 | by _YBF
Hottie Kerry Washington is featured on the August 2013 cover of VANITY FAIR. See the wet & sexy cover inside and find out how Kenya-born model Malaika Firth is breaking down barriers in the fashion world....
"Scandal" actress Kerry Washington dons a sexy one piece in Olivia Pope's fave spot to clear her mind--the pool--on the August 2013 cover of Vanity Fair Magazine. No swim caps here! Chick is looking all kinds of fab, wet slicked back hair and a white hot cut-out swimsuit to boot.
Inside the issue, Kerry stars in an editorial dubbed "Scandal's First Lady". The pictorial was by Norman Jean Roy and styled by Jessica Diehl.
Also, in the latest issue of The Guardian, Kerry talks about being a Black actress and admits that she doesn't want to live in a post-racial society.
"I don't believe in post-racial. It's like saying we should live in a post-gender world. But I love being a woman! I am interested in living in a post-sexist world and feel the same about race. I don't want to live in a post-race world because being black is really exciting. I mean" – she laughs – "it's who I am. I'm a woman, black, from New York, Aquarius – these are things that create who I am. I'm interested in living in a post-racist world, where being African American doesn't dictate limitations on what I can do – but I don't want to live post-race. Our differences are so fascinating and wonderful. We don't want to all be the same. Who wants that? Hitler did, but who else?"
Totally agree Kerry. Recognize the differences amongst others and RESPECT them. Don't ignore them.
And on Sunday, Kerry won the 2013 BET Award for Best Actress, but she didn't get to accept her award because she's on a much deserved vacay! She tweeted,
"STILL on vacay & twitter hiatus but...I COULDNT RESIST THANKING U ALL! So gr8ful 4 @BETAwards win! Thx 4 VOTING! BEST FANS EVER!"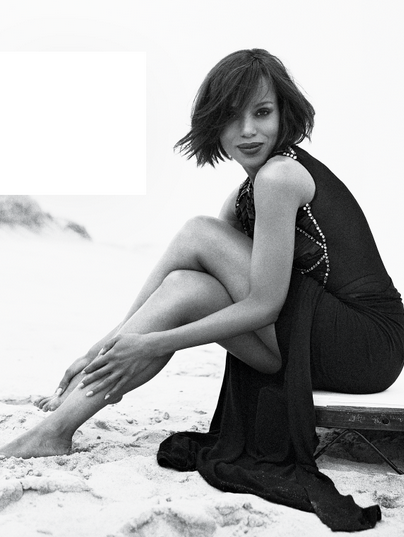 And in the fashion world....
Kenya-born gorgeous model Malaika Firth is breaking down the color barrier as Prada's first Black campaign model since Naomi Campbell in 1994.
The spread was a big feat for Malaika as it's her FIRST campaign and signals that Prada may be willing to add a little flavor to their shows and ads. Since 1994, the fashion brand had not had a Black model in its ads or on the catwalks until Jourdan Dunn walked for the brand in 2008.
When speaking to The Telegraph, Malaika named Jourdan as her inspiration, "She has inspired me the most, just because of how down to earth she is as a person. I love her drive and passion for modelling as well."
Congrats Malaika!
BONUS:
Malaika introduced herself via a YouTube video recently and her bubbly personality literally leaps off the screen! We'll be seeing a lot more of her.
Photos via Prada/VF