Angela Simmons COVERS "ROLLING OUT", Confirmed As Co-Host For "106 & Park" THROUGHOUT Summer 2013....
Jul 04 | by _YBF
Angela Simmons covers the latest issue of ROLLING OUT where she dishes on the pressures of being one of the "Simmons" and becoming more transparent with her fans. Find out what she said inside and get the deets her hosting "106 & Park" this summer....and what happened to the other hosts!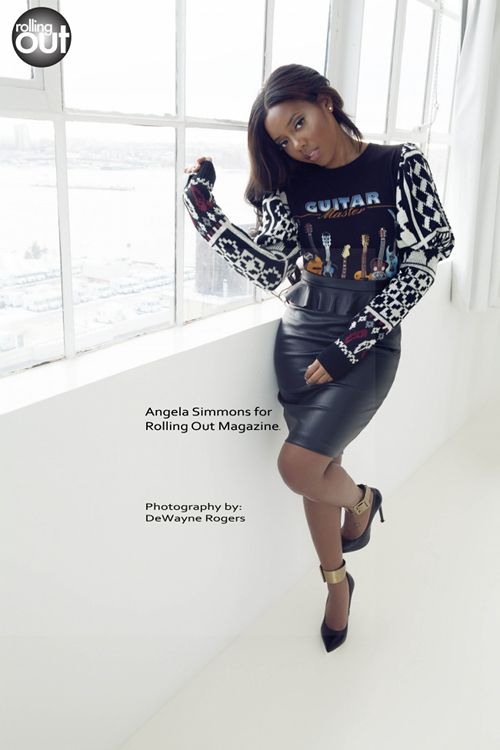 You might have noticed that Angela Simmons has raised her public profile with a string of co-hosting gigs on BET's "106 & Park", and there's a very good explanation. Outside of her obvious chemistry with her ex-boyfriend Bow Wow, the network released a statement revealing that they've booked Angela to co-host the program for the remainder of the summer. Remember when we said we believe BET is pushing out the other co-hosts? BET confirmed:
"106 & PARK" is undergoing exciting changes. Angela Simmons will continue to guest host until the end of the summer. Bow Wow aka "Mr. 106 & Park" will continue as the lead host; Miss. Mykie, Paigion and Shorty Da Prince will no longer remain on the show. BET Networks is happy to have worked with these bright, young stars and will continue to support them and their upcoming endeavors."

And while confirming the departure of Miss Mykie, Paigion and Shorty Da Prince, it remains to be seen if Angela will book the gig on a permanent basis. But for now, the fans are truly connecting to her.
And in the latest issue of RO, Angela continues that connection where she dished in an interview about her new clothing line, website and why she's not afraid to be vulnerable with her fans.
She also comments on some of the criticism she faces as the daughter of a minister and what impact it has on her lifestyle choices (and what she wears). And we're sure Meagan Good will co-sign. Here are the highlights:
We checked out your website, AngelaIam.com and you seem to be really passionate about it. Tell us about it.

It's basically a place for my fans and anyone that wants to keep up with me. It's also a place that's really about inspiring and helping young females. I have a beauty section, a fitness section, and an "Ask Angela" section; it goes on and on. It's pretty much everything in my life all in one place. I'm really excited about it. When I launched it, it crashed [laughs] … which is a good thing, because everyone ran there at the same time. I'm excited, because it's my baby, and I'm really owning it.

You also launched a fashion line. Can you give us some details on that?

It's really feminine, but still dressed down, because that's how I am. I think that an outfit should be able to carry you from day to night. It should be something that you can wear with sneakers, or something that you can wear with heels. That's the kind of girl that I am. I'm a New York City edgy girl on the go, so the clothing line is fun and young … it's also something that you can keep forever. I try to make pieces that people will be able to carry on for a long time. I want my pieces to be affordable, so it's a very moderate-end line that you can actually buy and be fashionable for the price.

You've stepped out a bit more as an individual, and not just as a member of this powerful family. Was that a conscious decision?

There comes a point in your life where you just evolve, and that's where I'm at right now. This is me. I've just grown into this person. I always get people asking me if it's a lot of pressure being a role model, or is there a lot of pressure because I come from this family, or that my dad is a reverend … and you know what, it is, but at the same time, I am who I am. I'm not faking it.

Do some people judge you through a small prism because of your dad.

Well I think with religion, people are just judgmental off the bat. They feel like if you have a relationship with God and Jesus Christ, then you're not allowed to have any fun. I think that's just wrong when people judge others … especially when you're not supposed to judge anyway. But I deal with it all the time. People will come up to me and say "Oh you shouldn't be wearing that skirt," and I just say "why not?" I'm not doing it distastefully, and I'm not being disrespectful. I have my relationship with God, so therefore I don't feel like anyone should judge me. But it's life, and people are going to judge. And there's so much controversy surrounding religion, so I just eat it. At this point, it is what it is, but I know who I am … and God knows my heart, so I don't take it any further.
See photos fron Angela's Olori Swank-styled photoshoot here: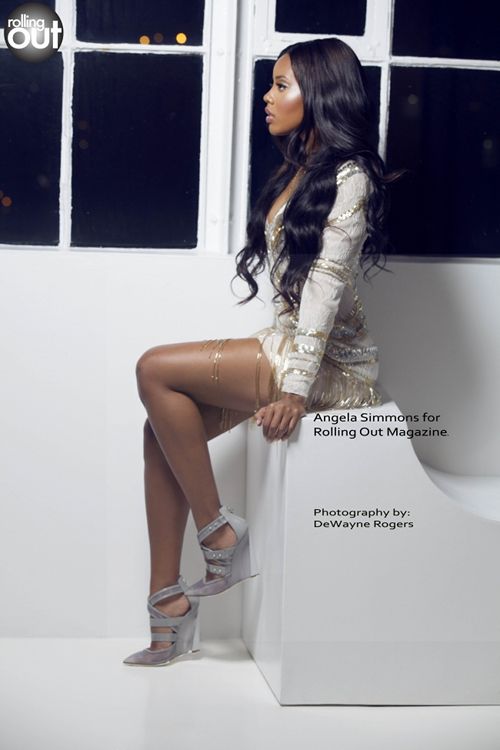 Read the full interview here.
Watch BTS video of Angela's cover shoot here:
Gorgeous photos.
The Randomness:
1. Nas set to headline the New York Mets 2013 "Summer Postgame Concert Series". Story.
Photos via RO/DeWayne Rogers