EXCLUSIVE: Catching Up With Brandy After Her FIRST Essence Festival Performance EVER
Jul 06 | by Natasha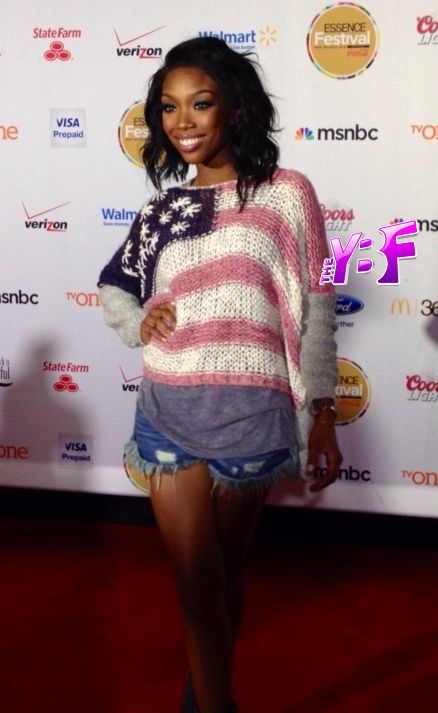 TheYBF.com is all over the steamy (literally...it's hot as hell) scene down at the New Orleans 2013 Essence Festival. And last night, we caught up with Brandy after her first ever appearance on the Essence stage at the Superdome.
Check out our exclusive chit chat inside...
Fresh off the Superdome stage Friday night, Brandy took a minute to dish on what exactly it felt like to tear down the stage in front of over 40,000 people. And for a first timer, she did pretty damn well.
The super excited "Wildest Dreams" singer was still over the moon after her 45-minute 20+ song set. She told YBF correspondent Kalia:
"I'm just blessed. I've never been at the Essence Festival, so to be here for the first time, to perform, to share this moment with my family and friends….it's freaking amazing. God is good….why don't I just say it…YBF…it's GREAT!"
And as for who she was looking forward to spending the rest of the night watching, the now engaged Temptation actress put on a girlish grin about a certain sexy crooner who also performed last night:
"I saw Maxwell in the back…I got me some tickets…I want to see everybody."
We know that's right B!
Check out video of our chat with the fabulous Brandy below:
Photo: TheYBF.com, Video: Kalia Silva