TV FAB: BRAVO Reveals "The New Atlanta" TRAILER + "R&B Divas LA" RATINGS Hit The Right Notes + Omar Tyree's "Flyy Girl" GETTING Adapted For The Big Screen!
Jul 17 | by _YBF
BRAVO has released the trailer for "The New Atlanta", the latest offering from reality tv producer Mona Scott Young. Watch the preview inside and get the deets on "R&B Divas LA" ratings victory and the big screen adaptation of Omar Tyree's classic Flyy Girl.
Mona Scott Young is expanding her TV empire beyond VH1 with a new franchise offering at BRAVO, "The New Atlanta." According to the network's press release,
"The New Atlanta" follows the next generation of the city's trailblazing young professionals who are hungry to achieve their dreams and find love as they struggle to resolve heartbreaks from the past. Aggressive in both their professional and personal lives, each hopes to make their mark in the cutthroat industries of fashion, music, event planning and business while taking advantage of Atlanta's hot social scene.
"The New Atlanta," will debut Tuesday, September 17 at 10pm ET/PT immediately following the premiere of "I Dream of NeNe: The Wedding" at 9pm ET/PT.
Meet the cast here:
Africa Miranda

A triple threat—actress, singer and model—Africa Miranda is turning heads in Atlanta. Co-creator of the live concept show "The Lipstick Junkies" and the face of several international hair campaigns, her sultry voice and lovely locks have put her front and center in Atlanta's entertainment industry.

Alexandra Dilworth

A recent college grad, Alexandra is seen and heard in Atlanta's hot Electronic Dance Music scene. She is a self-proclaimed "daddy's girl" on the look-out for a husband who will be able to accommodate her current luxurious lifestyle.

Emily Lipman

Emily has the looks of the girl next door, but is a force to be reckoned with on her hunt for love. A successful boutique owner, she has quickly emerged as a new leader in Atlanta's growing fashion industry.

Jevon "Vawn" Sims

Vawn is known in Atlanta's bustling music industry as the "Go-to-Guy" for artist development and discovering new raw talent. Now writing a book promoting his theories on love and romance, this "bad boy" with "good boy" qualities talks about relationships like never before. His tell-it-like-it-is attitude is one that you will either love or hate.

Tribble Reese

A partner in an event promotion company, Tribble always has the scoop on the hottest parties in town. An up-and-comer in Atlanta's entertainment industry, this former arena football quarterback knows what it takes to score on the field but is also looking for a touchdown in love.
Watch the trailer here:
And in other television news.......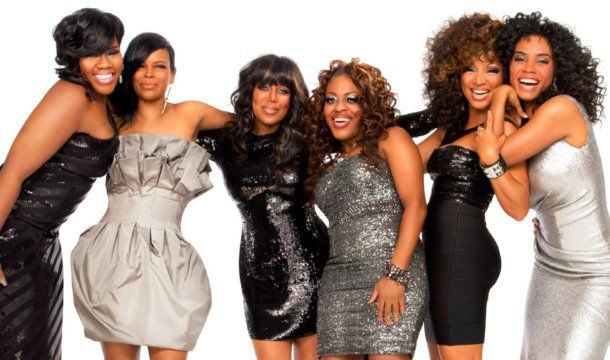 Last week's debut of "R&B Divas LA" hit all the right notes as TV ONE reported that the show was the network's most watched primetime telecast year-to-date among its core audience of viewer 25-54. The premiere episode was also the most watched third quarter Wednesday primetime telecast in the history of the network with 434,000 viewers. Alfred Liggins, President and CEO, TV One, said,
"The interest in R&B Divas LA has been overwhelming. The journey these six women take over the course of this season, and their willingness to share it with TV One's viewers, has been incredible. We are enormously pleased our audience has responded so enthusiastically."
"R&B Divas LA" airs on TV ONE Wednesdays at 9pmET.
And coming to the big screen.....
Codeblack Films (the producers behind Kevin Hart: Let Me Explain) have recently acquired the rights to Omar Tyree's Flyy Girl trilogy and plans to adapt the bestselling series for the big screen.
For those not familiar with the books, Flyy Girl amassed a cult following in the 90s and is a "...coming of age story that explores the journey of a young woman motivated by the material life who plunges into a fast-paced world of gratuitous sex, violence and heartbreak in an attempt to find herself and to assess her goals in life during the modern Hip-Hop era." The best-selling series won Omar an NACCP Image Award in 2001 best fiction writing for the trilogy's second book, "For the Love of Money".
Omar spoke about the venture saying,
"I couldn't be happier to embark on this journey with Codeblack Films and Global Renaissance Entertainment Group. I have every confidence that my brand has found the perfect home with one of the most effective machines in Hollywood."
Codeblack Films President Jeff Clanagan echoed Omar's excitement saying,
"Omar Tyree has created a franchise with an incredible story that connects with audiences worldwide. Codeblack is excited to have the film rights for these books which have been a staple in the African-American community for more than 20 years. We're thrilled to have the chance to finally bring these stories to screen."
Omar's books have been read by over 8 million people worldwide, and have grossed more than $30 million for publishing giant Simon & Schuster.
Photos via Bravo/TV ONE/Amazon