DJ Khaled Drops "I Wanna Be With You" FT. Nicki Minaj, Future & Rick Ross + Nicki Laughs At The "Proposal" & Says Khaled Was "Kidding"
Jul 30 | by Natasha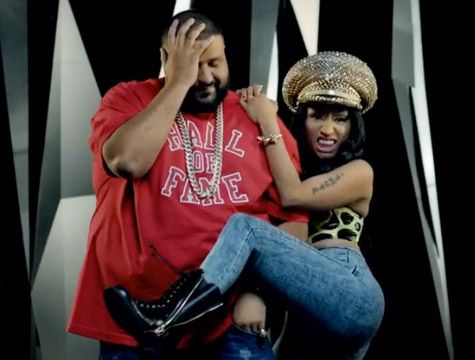 Nicki Minaj & DJ Khaled show why that publicity stunt of a proposal was just that....publicity....as their new song "I Wanna Be With You" hits the internet streets today. Check out Khaled's newest track inside, plus Nicki laughing off his marriage proposal....
"I Wanna Be With You" is Khaled's newest single off his upcoming Suffering From Success album (out Spetember 24th). He tapped Nicki Minaj, Rick Ross & Future for the track. And now, we can see why Khaled pulled that 10 carat diamond ring out of his pocket and "proposed" to Nicki on video. It's all to pub the feel of the song.
Nicki hit up Funkmaster Flex's show last night to say she never took "her brother" Khaled seriously and it was all just his way of pubbing the track:
"I was shocked just like the rest of the world and I was cracking up laughing with the rest of the world 'cause Khaled is a master at what he does. It was just another way for him to kinda give the world a glimpse on the feeling of this record."
"Khaled is my brother and Khaled was not serious with that damn proposal, ya'll. Please let it go. He was kidding. He's not attracted to me, he doesn't like me. We're brother and sister."
We figured. Khaled still hit up DJ Felli Fel on Power 106 afterwards and claimed that he wasn't giving up because she could say yes next year. he seemed serious, but we dont believe him.
And the track is exactly what you would expect. Khaled adlibs Kirk Franklin-style, Future brings his most basic repetitive auto tuned "flow" to create a "chorus," Nicki spits about her million dollar punani, and Ricky closes it out with a few bars about his riches. Check it below: