REVEALED! Tamar & Vince's Baby Boy Logan Makes His Debut, Tamar Tells "GMA" She Felt Unattached At First -- Asked "Did God Make A Mistake?"
Jul 31 | by Natasha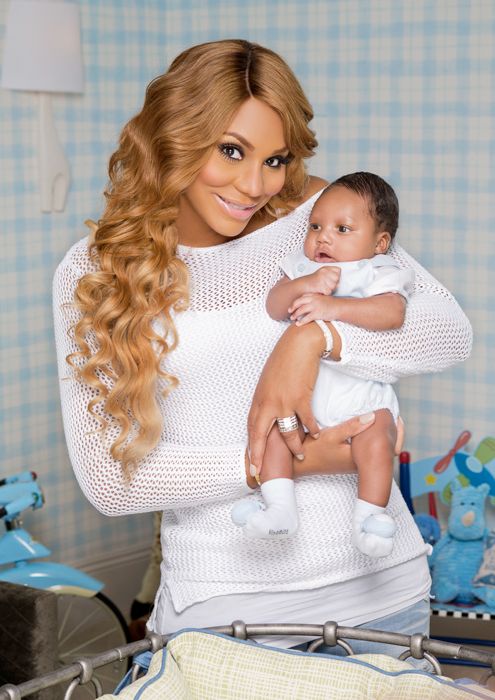 Well HELLO Logan! Tamar Braxton showed off her & hubby Vince's first child in the brand new issue of Us Weekly that hit stands today. Get a peek inside at the newest Braxton (and Herbert) baby, plus Tamar's honest reveal on "GMA" this morning about feeling unattached to Logan immediately after having him...
Logan Herbert's big reveal is being done in the only way we would expect from Tamar & Vince--a three page spread in a magazine.
The family appears in this week's issue of Us Weekly (pictured above) and we get to see just who little Logan looks like....we see his daddy Vince in the lips and his mom Tamar elsewhere. How cute!
Tamar also appeared on "GMA" this morning to give the real on how many brand new moms REALLY feel immediately after giving birth. It wasn't all roses & rainbows and baby powder. Tamar dished that she felt unattached at first, and wondered if God had made a mistake by making her Logan's mother.
"I loved him, you know. But I wasn't like 'oh, gosh, yes my baby, ooh,' you know. It wasn't that. It was more like what do I do now, you know?
You're in shock....And you know, it took me a few days to really, like, come to terms with the fact that I am a mom and this is my baby."
And it didn't help that the breastfeeding and diaper changes didn't happen as expected.
"Well you know, I was questioning my motherhood. … Like, is this a mistake that God made? Or like, is this something that I need to hand over to my husband because he and the baby connected instantly. And I wanted that. And I guess I was a little jealous, pretty much. Am I being really honest here? I guess I am."
She continued about not feeling like the "right" mother:
"I guess in a sense I did feel unattached because you know, I really, really wanted to connect with him because I wanted to breast-feed. And when he didn't latch on and when I couldn't produce milk I just felt like, 'Is this the wrong child?' You know what I mean? 'Am I the wrong mother?'"
But 2 months later, Tamar's riding high in the mommy saddle and overcame all the doubts:
"When he finally latched on I felt like he got me and I got him and this was all meant to be....I am very happy. I feel complete … he is the best thing that ever happened to me."
Love her testimony. Check out her "GMA" interview with more pics of Logan below:
Tamar will also be bringing Logan on "The Real" today, so be sure to TUNE IN! Check your local listings HERE.
The Randomness:
1. Denzel Washington is returning to Broadway in Raisin In The Sun. STORY
Photo: Robert Ector