AFTERMATH: Tameka Raymond Files For Emergency Custody Of Kids, Says "They're IN DANGER" [UPDATED] + Terrence Howard's Ex Shows Picture Proof Of The Black Eye She Says Terrence Gave Her
Aug 07 | by Natasha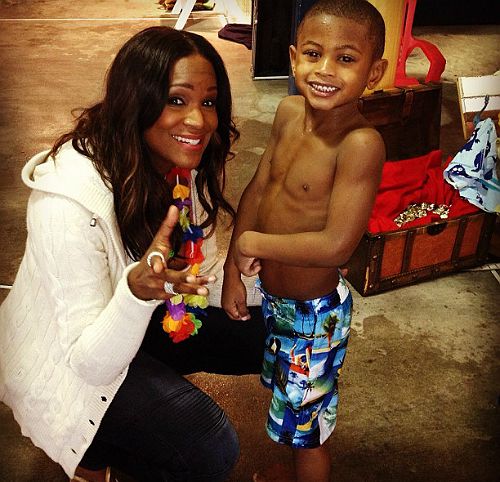 Tameka Raymond wasted no time in taking action in response to the most recent scare involving one of her & Usher's sons. Check out why she filed for custody, plus Michelle Ghent's new picture proof showing bruises she claims came from Terrence Howard punching her....
After losing her son Kile just a year ago in a water related accident (a jet ski & tube freak accident), Tameka feels her two youngest sons' lives are now in danger after Usher V (pictured above) ended up in ICU after a pool accident at Usher's house.
Usher has primary full custody of the couple's two boys, Usher V and Naviyd, which he won after the divorce settlement and after Kile's death.
Now, Tameka is looking to reverse that after Cinco got his arm caught in the pool drain and had to be helped to breath again via CPR done by AV workers who were inside the house. Today, Usher & Tameka were by Cinco's side in ICU and the doctors say he will be OK. But Mama Tameka doesn't feel comfortable releasing the boys back into Usher's custody as the incident happened at the pool at his home. Especially because she has beef with Usher's aunt who was supposed to be watching the boys.
TMZ reports:
Usher's ex-wife has just filed legal docs asking for an emergency hearing later this week ... to wrestle child custody away from him, on grounds he's creating a dangerous environment ... TMZ has learned.
Tameka Raymond filed the docs in Fulton County, Georgia, claiming Usher is abdicating his parental responsibilities by letting other people care for their 2 kids -- people who she claims are not on the ball.
Can't say we really blame her for filing these docs. The aunt in question is also the person Tameka previously accused of letting a stalker into the house while Usher & Tameka were married.
*UPDATE* Tameka has just been granted an emergency custody hearing to take place Friday at 2 p.m. before Fulton County Superior Court Judge John Goger. In her filing Tuesday, she accuses Usher of not being home 85% of the time and constantly pushing off parenting rsponsibilities on others. ET reports:
In the motion for the emergency hearing filed on August 6, 2013, Foster claims Usher has "failed to personally exercise physical custody of the minor children" and utilizes "third-party caregivers ... rather than personally exercising parenting time" and alleges that Usher isn't home "85%" of the time. She also calls the Monday incident a "near-death" accident, and claims that their son was "left unsupervised in a swimming pool" at Usher's Atlanta home.
And if you were wondering if Terrence Howard's ex wife was going to show some receipts with her story of allegedly getting beat down during a family vacay to Costa Rica with Terrence & his kids recently, she did.
TMZ obtained pics of Michelle Ghent showing her black eye and bruised arm that she claims all came at the fists of The Butler actor Terrence Howard.
Michelle did receive her temporary restraining order she filed for Tuesday in court, and she maintains Terrence threatened her with a knife and physically abused her during an argument.

The site reports:

Michelle Ghent alleges the brutality occurred during a trip last week to Costa Rica. She says the fight started after she told Terrence she had no interest in firing up a relationship with him -- they divorced in May.

Michelle says after Terrence hit her, he glared at her and walked over to a bedside table where he kept 2 curved knives -- 4-6 inches in length.

Michelle says she panicked and then pepper sprayed him. At that point she claims Terrence knocked her down and then kicked her repeatedly in the head.

In addition to the black eye, Michelle says she suffered contusions and swelling.

And, she says, he referred to a prior warning he had given her on a trip to Bora Bora -- threatening to kill her.

Well this explains where the pepper spray comes into play that Terrence says Michelle attacked him with FIRST. he also maintains he never touched her. But based on these images, someone did. Michelle says it was Terrence and he sucker punched her dead in the face, grabbed her up by the arm and caused contusions and swelling after he also threw her up against a wall.
Sad situation.
Photos: TMZ/Tameka's IG