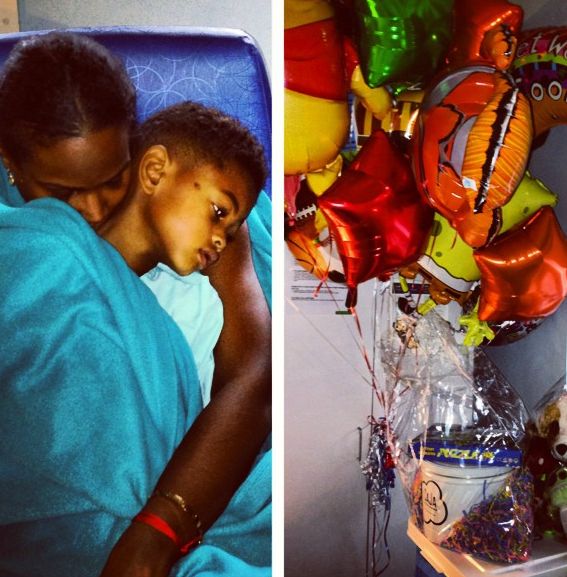 Tameka Raymond posted of pic of herself holding her young son, Usher Raymond V, following his near-fatal drowning accident. See the photo inside and get the deets on the Raymond vs. Raymond custody battle that's about to heat up.....
If you've been following Tameka Raymond's timeline, you've watched her face many challenges over the past few years. Recently, we've seen her go through a nasty divorce from Usher and then watched her handle the sudden death of her son Kile Glover.
And while many of us were scratching our heads when she lost custody of her sons with Usher, we're amazed that this latest incident (Cinco's near drowning) didn't have her sitting on the streets of downtown Atlanta with a sign.

She's kept her cool and calmness in a horrible situation, so it seems. But Tameka doesn't have time to go cray cr
http://50.56.9.147/sites/all/modules/fckeditor/fckeditor/editor/skins/de...); background-position: 0px -304px;" alt="" />ay because she's gearing up for battle. She's due in family court later today where she'll attempt to regain primary custody of her son (while Usher is on tour). But of course....there are still a few hurdles to jump over.
Mainly, Tameka tried to serve Usher's Aunt Rena with a subpoena, so she'd have to explain to a judge how the accident happened on her watch, seeing that she was supposed to be babysitting and all. But apparently....Aunt Rena can't be found! But that won't stop Raymond vs. Raymond from popping off later today......
And for all concerned fans and friends, Tameka posted a pic of Cinco in the hospital with a message. She thanked God and the angels who saved her son's life. She posted,
"My favorite 5 year old. What a blessing! I have always loved and appreciated my sons but tragedies and close calls make this even more evident. URV had an angel named Kile Ishmael and our Lord and true savior to look after him. Words cannot express the relief and how thankful to God I truly am. Thank you Jehovah God, Jesus and Kile...also The AV worker that saved my son is my Hero!!! Period"
We will stay on high alert and keep you posted about today's showdown in family court.
Photos via Tameka Raymond IG