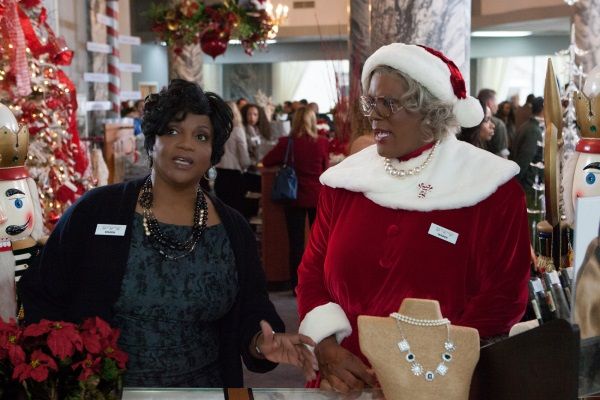 We have the first pic from Tyler Perry's next feature film with Liongate, Tyler Perry's A Madea Christmas. See the pic inside and watch Lance Gross star in Ava Duvernay's new short film Say Yes.
Coming to theaters on December 13, Tyler Perry will release Tyler Perry's A Madea Christmas. Shown atop, we have the first pic of Tyler (in character as Madea) with his co-star Anna Maria Horsford.
As usual, Tyler is directing, writing, producing, starring in...and probably catering, acting as the set paparazzi, acting as his own stunt double and everything else for this film (along with Ozzie Areu and Matt Moore). The flick also stars Chad Michael Murray, Alicia Witt, Larry the Cable Guy, Tika Sumpter, Eric Lively, Lisa Whelchel, and Kathy Najimy. According to Blackfilm.com, here's the plot:
"Madea gets coaxed into helping a friend pay her daughter a surprise visit in the country for Christmas, but the biggest surprise is what they'll find when they arrive. As the small, rural town prepares for its annual Christmas Carnival, new secrets are revealed and old relationships are tested while Madea dishes her own brand of Christmas Spirit to all."
In other Tyler Perry news, his soap opeara on OWN, The Haves and The Have Nots, has reached over 2 million viewers and has helped OWN turn a profit. That play-going crowd is nothing to play with...
And in short films.....
A few months ago, we interviewed Ava DuVernay, the fabulous film director who won at Sundance for Middle of Nowhere. Ava, who went on to direct Gabrielle Union and Alfre Woodard in The Door a short film for Prada, has now directed a new short for "SAY YES". The film explores the power of the affirmative, and the beauty that blossoms from embracing life. It was inspired by the Fashion Fair lip color, Say Yes. Ava discussed the project saying,

"I was thrilled to be asked to create a film for Fashion Fair, a brand that has always embraced women of color, and that women of color have so often embraced. The film is a meditation on the power of 'yes,' illustrating what can happen when we affirm our family, our friends, ourselves. I also thought about the many ways that Fashion Fair says 'yes' to us. Yes to our variance of skin tone, yes to our different ages, yes to our body sizes, yes to the myriad of elements that we are. That's something worth celebrating."
The film features actors Lance Gross and Kali Hawk in leading roles, with cameo appearances from "Awkward Black Girl" star and creator, Issa Rae, musical recording artist, Ndambi, actress Lorraine Touissant, and filmmaker and author Julie Dash.
BONUS:
ABC has released the first official photo of "The View"'s season 17 cast, which features Whoopi Goldberg, Sherri Shepherd, Barbara Walters, and Joy Behar's replacement, Jenny McCarthy. Jenny said,
"I'm beyond thrilled to be joining Barbara and the other amazing women at the table. I'd like to thank ABC for this great opportunity. I'd also like to give a big thank you to VH1 for their support and for allowing me to fulfill this lifelong dream. I look forward to helping make hot topics a little bit hotter, and showing my mom that my interrupting skills have finally paid off."
Are you excited? We're lukewarm on this one...
Photos via Lionsgate/ABC