Tameka Raymond SPEAKS OUT On "GMA", Says She's More Than A Baby Momma
Aug 14 | by _YBF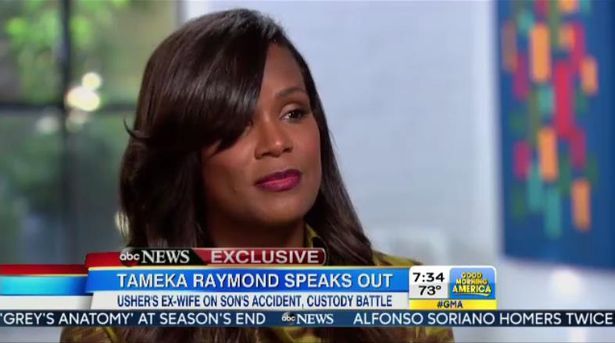 Tameka Raymond appeared on "GMA" this morning where she explained why she's battling for custody of her sons and how she felt when she got the call about Cinco's accident. Find out what she said inside....
Today on "GMA", Tameka Raymond sat down with Dan Abrams to talk about her ongoing custody battle with her ex-Usher Raymond and the near-fatal drowning of her son Usher Raymond V (Cinco).
During the interview, Tameka described the chills she felt when she received a call about the accident. "It was like I relived it. My brain went into all these modes. I'd gotten this call before." You'll recall that her 11-year-old son Kile Glover died in a boating accident about a year ago.
Here are the other highlights:
On if she blames Usher:

"I don't blame him, but I'm angry it happened on his watch."

Is she mad at Usher:

"Absolutely not. He's the father of my children. and I love my children more than life itself."

On what she wants going forward:

"I want to have first right of refusal. (If Usher is out of town) I don't want them to go home to the nanny and watch whatever show their dad is on. They should be home with their mom."


On how she is portrayed by the media:

"I don't have an agent. I have regular, working-class friends and family. We don't know how to fight the machine. I had a career, and to be reduced to some baby momma and gold-digger is hurtful."

On reports that a psychological examination revealed she had "a moderately severe mental disorder?

"I'm going to be retested. You would think from hearing that, that she must be cutting them, beating them, on crack."
Cinco is now out of the hospital. Raymond vs. Raymond will be back in family court on the 27th of this month.
Check out the full video of Tameka's interview HERE.
Photos via ABC NEWS/Dan Abrams