She just had baby Logan two months ago, and now Tamar Braxton has snatched it back with this fab post baby bod. Check out Mrs. Braxton Herbert rocking her skin tight look for last night's episode of Bravo's "Watch What Happens Live"....
Rocking a black leather zip top & belted Thomas Wylde dress and stark white Versace ankle cuff pumps, Tamar Braxton flaunted her lil way all the way to Andy Cohen's Clubhouse to appear on "WWHL."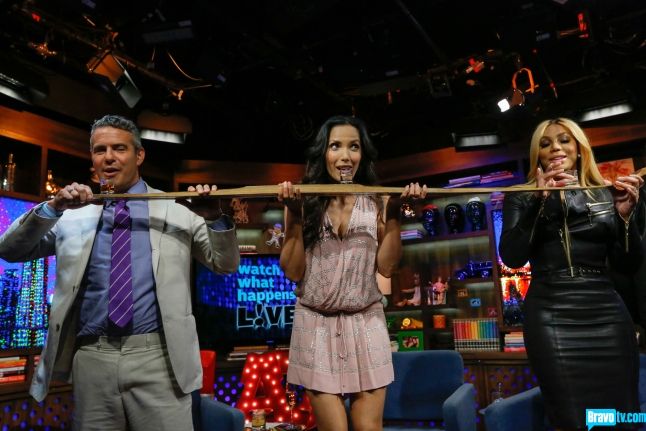 Tamar, who was there to pub her upcoming album Love & War, & Padma Lakshmi chopped it up with Andy and the viewers and drank some draaaanks.
Tamar revealed what's a deal breaker in a relationship (lov for strip clubs are NOT, but being besties with his ex and having only one ball, are indeed). Oh, and she also revealed if a guy asked for a pre-nup, it's a wrap. That's why SHE doesn't have one.
Peep the clip below:
More pics, including Tamar with her glam squad on their way to the club:
Cute.
Photos: BravoTV/Tamar's IG, Terrell Mullin's IG