RAPPER'S DELIGHT: Big Sean Dishes On Rapping About His Ex Ashley & What Naya Rivera Thinks + Foxy Brown BREAKS DOWN in TEARS Over The Haters
Aug 15 | by _YBF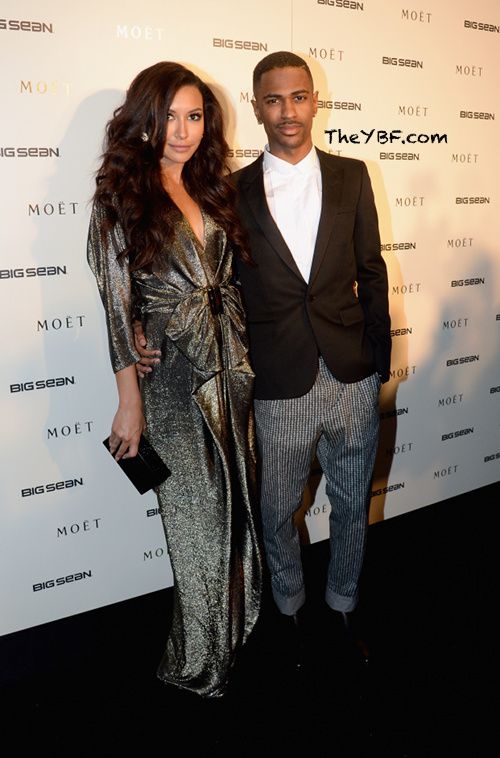 Rapper Big Sean opened up about writing the Hall of Fame track "Ashley" about his high school sweetheart and how his new chick, Naya Rivera feels about it. Watch the interview inside and find out why Foxy Brown broke down in tears inside....
Rapper Big Sean just hosted a release party for his forthcoming Hall of Fame disc (August 27th) recently and had his gorgeous girlfriend Naya Rivera on his arm. On the new disc, Big Sean included a song called "Ashley" featuring Miguel, which is named for his childhood sweetheart Ashley (whom he broke up with prior to (and likely for) Naya).
While you might think it's weird to included a song about your ex-girlfriend, Big Sean doesn't see it that way. During an interview with 106 KMEL, he explained that Ashley is a wonderful woman who was there for him in many ways. He said he wrote the song BEFORE he met Naya and thought that Ashley deserve her own song. Although he hasn't spoke to her in a long time, he says they are cool.
When asked how Naya felt about it, he said that Naya is ALSO an artist and she understands that you will always be inspired by people from your past.
SIDEBAR: In Naya's new song "Sorry" featuring Big Sean, she sings to all the ex-girlfriends of her current boyfirend about not being sorry about being with him. At one point, she namechecks an ex-named Ahsley. When asked about it, Big Sean says it shouldn't be taken so literally. If you say so...
Watch the interview here and listen to Big Sean discuss "Ashley" at (7:31):
In other rap news.......
Foxy Brown appeared on RapFix Live alongside Big Daddy Kane when she broke down about rumors and gossip affecting her personal life. Through tears, she said,
"I have tears in my eyes right now because what I've been through, you guys don't understand. The fact that somebody can just lie and it becomes a trending topic, where everybody is talking about it, and you have to constantly come out of the booth and stop what I'm doing to defend a lie."
In the clip, she received some words of wisdom from Big Daddy Kane on going forward. She added, "You know me I'm far from weak, I'm as strong as they get. I have the heart of a soldier, but after a while it becomes let her live. Let her live."
On a positive note, it sounds like Foxy is working on a new album. In between the tears, she said she had to come out of the "booth" to deal with these rumors. Alrighty then....
Photo Credit: Wireimage/Moet Rose Lounge