SPOTTED: Kanye West ATTENDS LA Dodgers GAME With Rob Kardashian + FIRST Post-Delivery Pics Of Kanye With Kim...And Baby North West
Aug 15 | by _YBF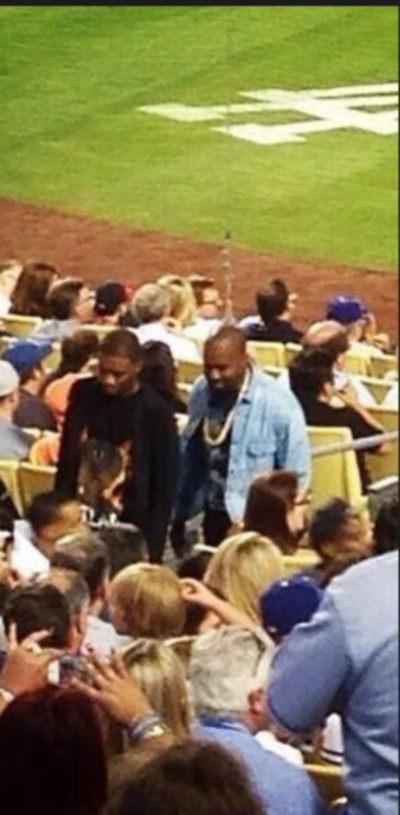 Kanye West was spotted out at the LA Dodgers game last night. See the pic inside and check out the first pics of Kanye and Kim Kardashian with their daughter North West.
Kanye West was spotted at the LA Dodgers vs. NY Mets game yesterday in LA. The "New Slaves" rapper attended the game with Rob Kardashian and according to sources, was boo'ed when his face appeared on the JUMBOtron.
But we're sure Kanye's ego wasn't ruffled by a few negative boos as he's used to being on the receiving end of criticism. Meanwhile, Yeezus is set to make MTV history when he walks onstage to perform "BLKKK SKKKN HEAD" at the 2013 VMAS on August 25 at 9pmET.
And in other Kanye pics.......
Kanye and Kim Kardashian were spotted out with their daughter North West for the first time yesterday since little Nori was born. Of course, there's no face pics of the baby since Kanye really thinks Anna Wintour is going to cave on giving that baby a "debut" cover...or something. Regardless, we can't post the family outing pics here, but you can check 'em out here.
In the photoset that has emerged, we see KimYe and North West on their way to an LA Medical facility. The baby girl is covered by a blanket and being carried by a nurse. Meanwhile, Kim is wearing a baggy denim shirt (to conceal her post-baby bod) and has a second shirt tied around her waist. It looks like she's makeup free....but we're sure she knew at least one camera would spot her. And for a change....Kanye is smiling! He even playfully tugs as the shirt she has on her waist. He looks...dare we say it.....HAPPY!