Big Sean Hosts Album Release Event In LA, Willow Smith Pops By, DROP ""Beware" VIDEO + Robin Thicke, T.I. & Pharrell Suing Marvin Gaye's Family Over "Blurred Lines" OWNERSHIP
Aug 16 | by _YBF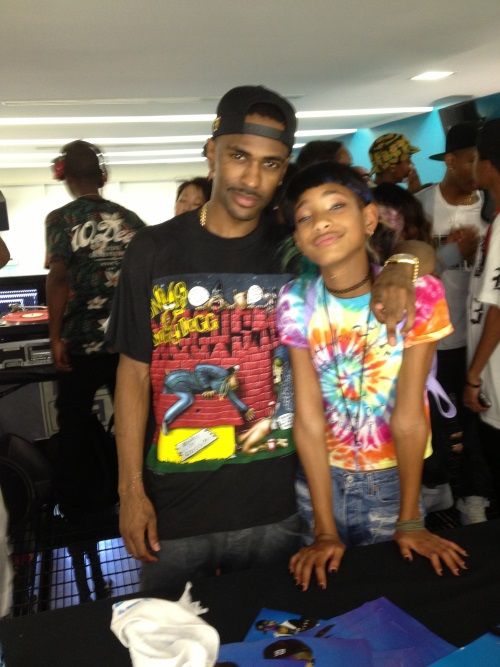 Rapper Big Sean continued his press tour for Hall Of Fame with an in-store appearance in LA and performance on "Jimmy Kimmel Live." See Willow Smith stop by to support Big Sean and find out why Robin Thicke is suing the family of Marvin Gaye. And, watch Big Sean's "Beware" video....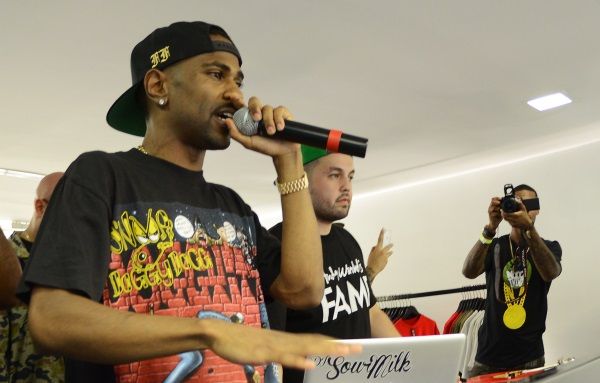 In anticipation of the August 27th release of Hall of Fame, "Fire" rapper Big Sean hosted a block party on Fairfax Ave. in Los Angeles, CA yesterday.
Over 1,100 people stood in line to take photos and get autographs. And even lil Willow Smith dropped by.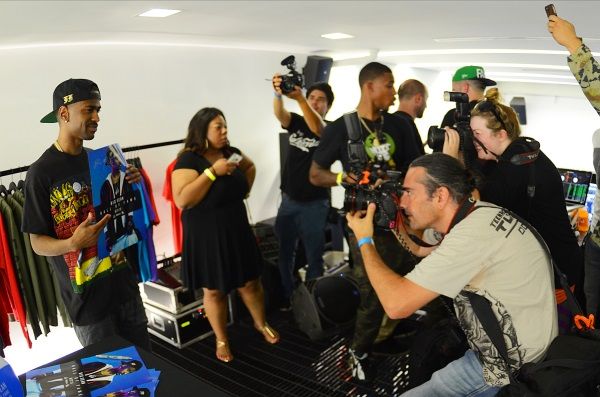 The event was hosted by Power 106's LA Leakers, Justin Credible and DJ Sour Milk and Sean performed his single "Guap" for the fans. He also spoke about his single "Control" which has sparked a ton of controversy (and response records) due to Kendrick Lamar's verse.
And later that evening.......
The Detroit homie stopped by "Jimmy Kimmel Live" (rocking an ODB t-shirt) to perform two tracks from HOF, "Fire" & "Beware", with his Def Jam labelmate Jhené Aiko.
See the clips here:
And in new videos.....
Big Sean has released the official video for "Beware" featuring Lil Wayne and Jhené Aiko. Enjoy the artsy clip above....
In other music news......
When it comes to party music, the family of Marvin Gaye sees "Blurred Lines" of ownership. On Thursday, Robin Thicke, Pharrell Williams and T.I. filed suit in California federal court against Marvin Gaye's family and Bridgeport Music (which owns some of Funkadelic's compositions) because both of the latter claim "Blurred Lines" stole from their compositions.
So to be clear, Marvin Gaye's family and Bridgeport Music have made allegations that "Blurred Lines" is very similar to Marvin's "Got to Give It Up" and Funakedlic's "Sexy Ways." In response to that claims, Robin and his crew have filed a lawsuit which seeks to prove that they DID NOT sample the records records and they shouldn't have to pay any royalties because their "new" composition "reminds" listeners of something else.
THR quotes the lawsuit as saying,
There are no similarities between plaintiffs' composition and those the claimants allege they own, other than commonplace musical elements. Plaintiffs created a hit and did it without copying anyone else's composition.
Sidebar, George Clinton (former leader of Funkadelic) sided with Robin and tweeted, "No sample of #Funkadelic's 'Sexy Ways' in @robinthicke's 'Blurred Lines' - yet Armen Boladian thinks so? We support @robinthicke @Pharrell!"
We have to admit, "Blurred Lines" REALLY DOES have that "Got to Give It Up" feel. But a "feeling" IS NOT a sample....
Photos via Jesse/Hall of Fame/Six 27 Branding's Instagram