RUMOR CONTROL: Meagan Good Is NOT Pregnant, But John Legend IS Naked!
Aug 19 | by Natasha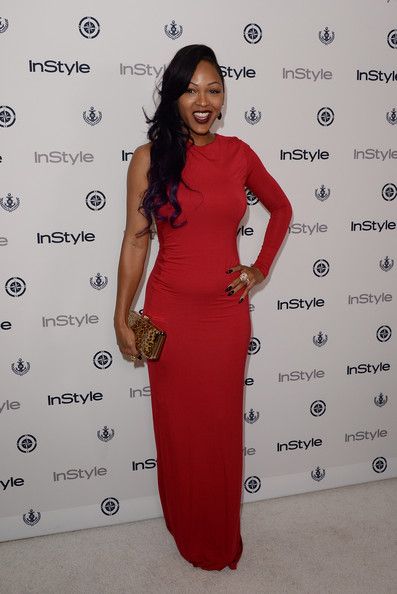 When Meagan Good popped up at the InStyle Summer Soiree last week in this fitted red one sleeved dress, she set the rumor mill into overdrive with word of a possible pregnancy.
But Meagan said today...there's nothing to see here. Check out her clearing up the rumor inside, plus John Legend getting naked for Funny Or Die....
Meagan stopped by Nick Cannon's 3rd Annual Back To School Drive this weekend when the folks over at Hip Hollywood asked her about those pregnancy rumors. Yep, she saw your comments asking if she should be put on Preggers Watch. But Meagan said her and husband DeVon Franklin aren't planning on expanding their fam for another 3 years at least.
She screamed out, "I'm not pregnant!"
And laughed saying, "It's called too much pizza, too late at night. I saw the picture....One picture my stomach looked flat, the other it looked like a baby bump. I was like ok."
She shouted out her trainer at the end saying she would be hitting her up soon. But we think she looks pretty perfect the way she is.
And speaking of revealing videos, singer John Legend was all about showing his goods in a brand new video for Funny Or Die. Check out a day in the life of John...where he gets butt ass naked every other minute during his busy day of doing....nothing. Hilar.
Photo: Getty